Featured Artist : Clare Little
www.silkcatdesign.com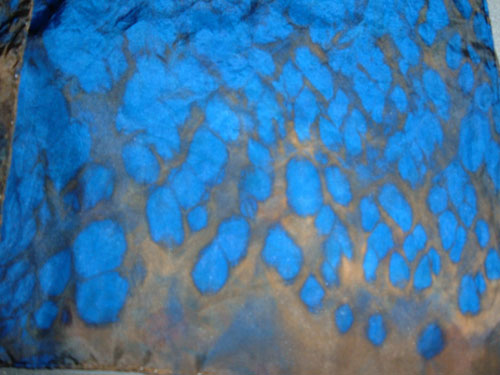 Artist Bio / Statement
Hello Everyone !
I am a self taught artist , or "outsider" artist , as we are sometimes labeled ! I have been dying with Procion powdered dyes and Jacquard acid dyes for over 16 years .
While working long and hard all my life at thankless jobs plus raising a family , I have never quite been able to stop making ART in some way , shape or form . I am strongly creative , energetic and driven .
After many continuing ed classes in fibers , metal smithing and jewelry at the Md Inst College of Art in my hometown of Baltimore, Md , I started showing in galleries and doing every craft show I could find , including Artscape for several years. My work then was a combination of copper and bronze with shibori and batik fabrics incorporated into them to make pins, earrings , necklaces and complex sculptures and wall hangings. Although I enjoyed it tremendously , I backed away from that world realizing that I was indeed a "starving artist" and needed to put food on the table .
Years later ,and more relaxed, I have re-discovered dying silk as a satisfying hobby and surprisingly am selling briskly on a local level at my new home in Southwestern Pa. Through experimenting with colors and patterns , and combing them in subtle ways, I have learned that sometimes less really is more . I am now enjoying creating art more than ever !
Contact Info