Featured Artist : David Ludwig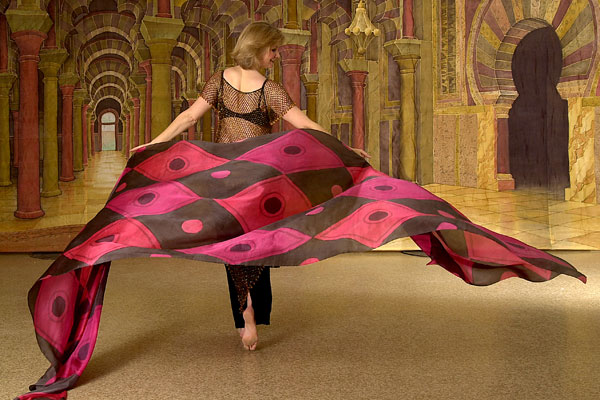 Artist Bio / Statement
David Ludwig's specialty is Silk Dancing veils and theatrical backdrops (his painted backdrops are shown behind the dancer's in the above photographs). He uses Dharma's 5mm Silk Habotai yardage 45" wide (#HS545) for his long dancing veils, and each veil takes at least three yards of fabric.
David paints his veils with Procion powdered MX dyes. His homemade framing system is made up of PVC pipes and joints. He uses Chinese suspension hooks (#HOOKS) and rubber bands (#RB). He steam sets his veils.
D a v i d L u d w i g
A r c h i t e c t A n d A r t i s t
BIOGRAPHY
Born in 1944 in the LA suburb of Torrance, David Ludwig discovered his creative gifts and began drawing, painting, and playing music in elementary school. He began dancing in high school and was trained to be a carpenter by his father. He grew up with a creative eye and building in his blood, and was directed toward architecture as a career path by an intuitive art teacher.
Architecture, art, music, and dance became his primary interests in his late teens, and have remained so for his entire life. In 1964 he moved to Berkeley to attend Cal, and he graduated with a Bachelor of Architecture in 1968, and a Master of Architecture in 1971. After several years of design apprenticeship, he opened his own firm, which he called Dovetail Design and Construction. For the next seventeen years, he designed and built over a hundred residential and small commercial projects in the SF Bay Area.
During this time from 1975 to 1985, David kept his interest in dance and theater alive by encouraging the dance interests of his four daughters and studying ballet himself. In 1987 David was asked if he could help with a school production by creating a 21' x 38' stage backdrop on silk. This was his introduction to painting large format images on silk, and after creating four other backdrops for the school, he realized that he had found a unique and rewarding medium of artistic expression.
In 1987 David went to work for Polsky Architects in Marin County, and his architectural interest evolved into designing high-end custom homes. Over the next 17 years, he completed over 70 residential and educational projects. His dance interest evolved from folk dance to studying and performing Middle Eastern dance. He began to study and perform Middle Eastern music on the ney, and his artistic interests evolved from backdrops to belly dance veils and shawls.
David opened a silk painting studio called Silk Spirit in 1995, and after evaluating his personal and creative goals he reduced his time commitment to practicing architecture and used his additional time to develop his art, photography, backdrops, costumes, dance veils, and shawls in his silk studio. In 2003 he was commissioned to produce his first digitally printed backdrops for a professional dance company and David's digital drops have toured the world since then.
In September 2005, David left Polsky Architects and opened his own architecture practice in San Anselmo, CA. In 2006, he purchased a new Airstream Trailer and began a transition toward a mobile practice and lifestyle. He currently lives in a cottage on the side of Mt. Tamalpais in Mill Valley where he has his silk studio in a converted garage, but he is seeking an alternative living situation in a warehouse or barn where he can park the Airstream as a base and live-work there and on the road.
Contact Info
Office - 411 San Anselmo Ave., San Anselmo, CA 94960
Studio - 701 Edgewood Ave., Mill Valley, CA 94941
(O)415 945 9410 - (F)415 456 6403
e-mail: david@ludwigdesign.com
website: silkspirit.com