Featured Artist : Jill Targer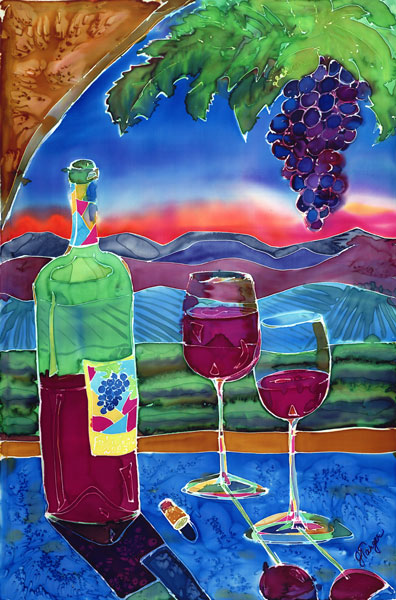 Artist Bio / Statement
Hello.
I've been a silk painter since 1999, and Dharma has supplied me with most of my materials. I use Sennelier Tinfix dyes and gutta almost exclusively, and have been sponsored by them at Learning Products Expo workshops that I conduct in Southern California. I like to draw my designs freehand and paint using watercolor brushes of various sizes. I have found that steaming my silks (according to Dharma's catalog instructions) results in the best color development and luster for my pieces, which include scarves and paintings that I mount on canvas.
Much of my work revolves around wine and vineyards, which reflect my surroundings in California's Central Coast wine country. Sometimes it's just fun to mingle the colors and see what happens. I consider my techniques to be a partnership between my ideas and the silk and dyes, and I often let the creative process take over as my pieces progress.
I have won several first prizes and Best of Show awards in the Santa Barbara County Fair with my paintings. I also teach classes at Allan Hancock College in Santa Maria, CA. My work has been on magazine covers and featured on posters and other festival items. My silk designs are also featured on a line of cocktail napkins and coasters, which are available nationally.
Among my greatest pleasures are my demonstrations of silk painting throughout California, and I volunteer my time in various art awareness groups in my community. My mission as an artist is to bring color and happiness to my audience, one smile at a time. Please visit my website at www.JillTarger.com.
Jill Targer
2890 Tepusquet Road
Santa Maria, CA 93454
www.JillTarger.com
(805) 937-3290
Contact Info