Featured Artist : Kati Thomas
Artful Beginnings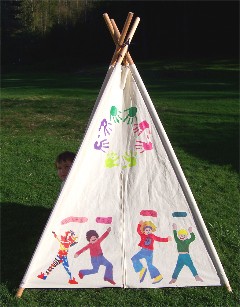 Artist Bio / Statement
I've been using Dharma products for at least 15 years now. I've tried lots of your products: Fiber Reactive dyes for cotton fabric and Acid dyes for dyeing wool yarns and silk fabric, your cotton dyeables (t-shirts, canvas bags), silk scarves and silk yardage, fabric markers and the dye sticks for my kids, not to mention the chemicals I need, such as soda ash, synthrapol, urea - and the list goes on. I even used your stove top steamer instructions to create my own steamer!
I am a textile artist with a degree in Crafts/Fibers from the University of the Arts in Philadelphia. I also have a graphic design degree. Few years ago I discovered your new product, inkjet printable silk on rolls. After lots of testing last year I started a new company, Artful Beginnings, which offers custom printed silk textiles. The main idea was printing children's artwork onto silk to be turned into scarves, pillows, placemats, bags, table runners and such. Since then, I decided to expand the scope of my business, so I added weddings to my custom printing venues - mostly bridal handkerchiefs, ring pillows, ring pouches, scroll invitations and many such. The silk I use is the Jacquard wide format inkjet fabric on rolls: organza, habotai, crepe de chine, dupioni, broadcloth and noil. For the metallic paint for my scroll invitations, I use the Jacquard Lumiere metallic paints.

For my personal artwork, I use your silk fabrics in white and black. My all time favorite is the silk velvet - it dyes beautifully with the acid dyes. I create pieced silk designs from my hand dyed or, more recently, inkjet printed silk fabrics cut into inch-wide strips. I piece them together using a satin stitch and silk or rayon thread. Mostly I use hand dyed silk to line my pieces. For the table runners I use cotton backing, from your kona cotton or the economy muslin. As a fun fundraiser for my son's class, I made a teepee to be auctioned off, using your cotton canvas and tabloid size transfer sheets. My goal for the near future is pieced silk wall hangings.

Thank you, Dharma, for offering such a huge variety of items - I am always amazed and inspired whenever I visit your website, or look through the catalog.
Contact Info