Featured Artist : Stephanie MacNeill
|

Nature's Playroom
Artist Bio / Statement
My name is Stephanie MacNeill, and I live in Ontario, Canada. I create one-of-a-kind pet portraits, sculptures, and children's playsets by needle felting using 100% wool. I am inspired by nature and the world around me, and I adore doing commissioned portraits and sculptures. I use Dharma Trading Co's wool rovings to help bring my sculptures to life.
I am a self-taught fiber artist, and I find great peace when creating. I have sculpted using other mediums, but nothing gives me as much pleasure as working with wool. You can find my needle felted works on Etsy in the Sewn Natural shop, and see a gallery of my works on my Nature's Playroom Facebook page.
Contact Info
Stephanie MacNeill

Nature's Playroom

Website/Etsy shop: collaborator for Sewn Natural on Etsy and Nature's Playroom on Facebook

Email: steph@naturesplayroom.com
Dharma Products Used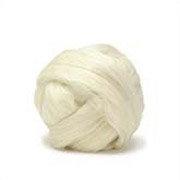 Roving
Large selection of all kinds of roving to satisfy your every roving need! Dye your own amazing varigated rovings, spin your own custom yarns, or try out felting!