Featured Artist : Beatriz Mazer
|
Artist Bio / Statement
My name is Beatriz Mazer. I live in Sao Paulo, Brazil. I have been painting watercolors and acrylics for many years. Last year, I went to some silk painting classes and felt in love with it. I love the colors and how the dye flows. I paint almost like watercolor, and also use paintsticks.
My inspiration is Brazilian culture and nature. I love flowers, fruits, and birds.
I have been using Jacquard Silk Dyes, Pentel Fabricfun Dye Sticks, and Shiva iridescent paintstiks.
Contact Info
Beatriz Mazer
Beatrizmazer@gmail.com
Facebook : Tiz Brasil
Dharma Products Used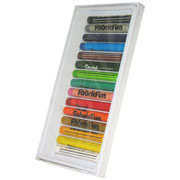 Dye Sticks
Apply like a pastel directly onto cotton, silk, wool, or rayon fabrics. Draw freehand, follow traced designs, make stencils, whatever makes you happy!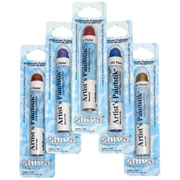 Shiva Paintstiks
With these beautiful, opaque Shiva Paintstiks both beginners and seasoned fiber artists can transform ordinary fabrics into unique embellished works of art!