Featured Artist : Jane DeGroff
Spring City Hand-Dyed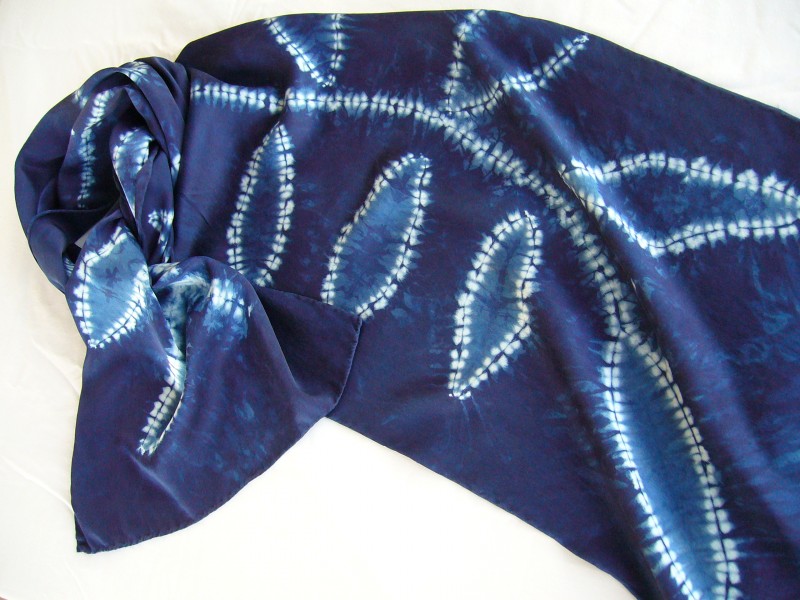 Artist Bio / Statement
My name is Jane DeGroff and I am the designer/dyer at Spring City Hand-Dyed. I dye textiles, mostly silk scarves, in natural dyes using Shibori techniques.
I have been dyeing for several years, but started doing shibori in natural dyes about a year ago. I love shibori! The variety is endless and the results are beautiful. I do nui (stitch) shibori, itajime (clamp) shibori, arashi (pole wrapping) shibori, and others. So far; I use indigo, cutch, and locally harvested rabbitbrush for the dyes.
I dye at my home in beautiful central Utah. I am inspired by traditional Japanese, Indian, African, etc. shaped resist dyed textiles and by the beauty that surrounds me. I homeschool three of my five children, and we harvest rabbitbrush blossoms near our home to create the dye. I am exploring other possibilities for natural dyes.
I buy my blank silk scarves from Dharma. I also get the pre-reduced indigo, cutch extract, all my detergents, fabric softener, etc. From Dharma. Dharma Trading Company is a critical part of my business. I love their great customer service and quick delivery.
Contact Info
Jane DeGroff
Spring City Hand-Dyed
schanddyed@gmail.com
(435)462-5742
Dharma Products Used
Please see the description for a list of products used.