Featured Artist : Stephanie Podasca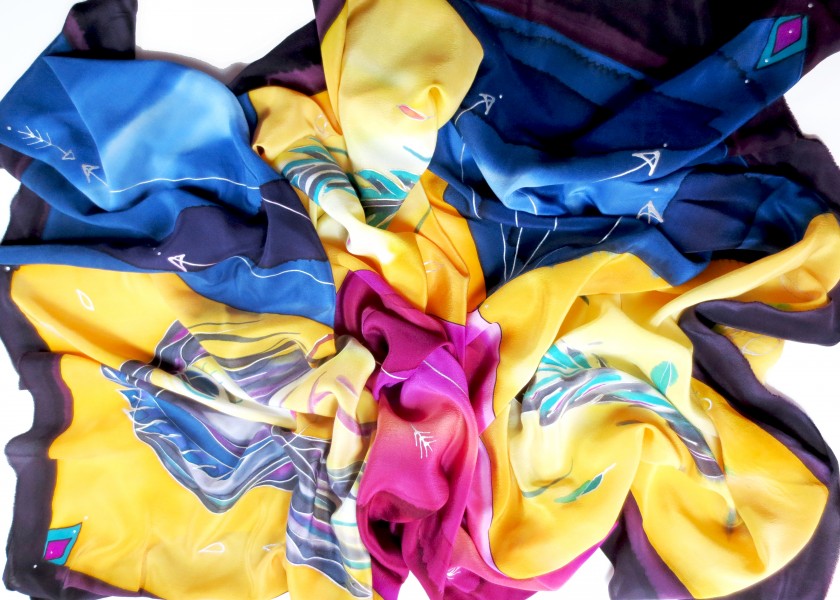 Artist Bio / Statement
I hand-paint silk scarves using different techniques I learned during my time studying at FIT in New York City, where I studied Fashion Merchandising Management and Art History/Museum Studies. I learned silk painting from a professor who's very well known in the textie world. I instantly fell in love with it and decided to pursue it full on. It's important to create art objects that are not mass produced, allowing customers to have something truly unique for themselves. With this as my mission, I don't reproduce any one scarf or design; I believe in creating something special and luxurious, but entirely accessible at the same time.
I grew up in the Bay Area within a very artsy and culture-forward family. My roots are Romanian, but I'm a true California girl at heart. I studied and worked in New York for the past six years, and have recently relocated back to the west coast in Portland OR.
It's hard to narrow down just a few things that inspire my work. The designs come from a mixture of classical textile patterns combined with my own modern interpretations and artistic style. I have some series that are inspired by brightly colored caves, oil spills on the concrete, shibori clamp techniques, the galaxy, artichokes, Hermes (of course), metallics, trees, and dots! As you can tell, my brain likes to recreate a number of images, designs, and emotions and I'll go wherever the juices are flowing that day.
I use an array of Dharma products:
-Pebeo and Dupont guta serti
Contact Info
Dharma Products Used
Please see the description for a list of products used.