Featured Artist : Camby Collier
Madame du Pont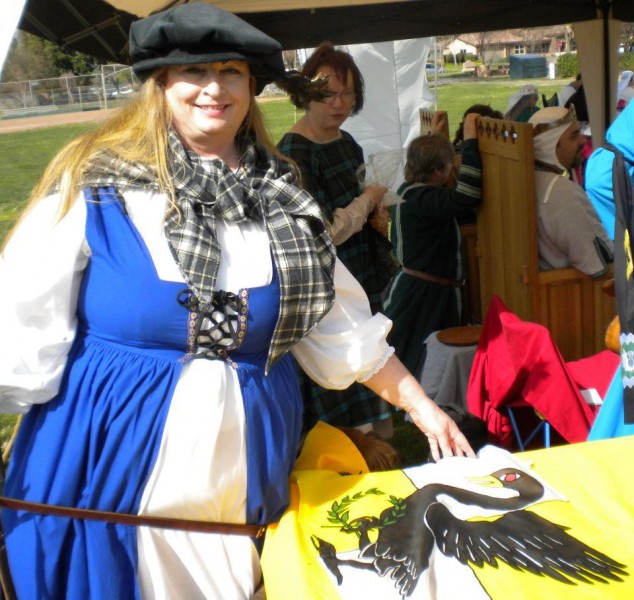 Artist Bio / Statement
My banners are done for the Society of Creative Anachronism (SCA) Medieval Events. Our group is worldwide: (http://welcome.sca.org/). It is a non-profit group that studies the Arts and Sciences of the Middle Ages, pre-17th Century.
I have sent banners all over the USA and two to one of our groups in Thailand. I just did my 100th banner using Dharma dyes. I have never charged for any of my work, it is 'My service to the Dream' of medieval times. The banners give an air of wonder to events. When you see banners flying you know you are in a special place.
I use Dharma Pigment Dyes and have used Dye-na-flow. Most of the banners are on 8 mm habotai silk, and recently, I use the 12 mm satin silk for one coat application; more thread count holds more color. The size silk I use is 15" x 60", 22" x 72" and for murals the 36" x 36". To outline the design I use the Jacquard Black Resist. I heat set the banner using an iron, 3 minutes for each section. I make the Kumihimo style ties for the banners; it is an ancient Japanese form of weaving 7 strands of yarn that I color coordinate with the colors in the banners.
I have made a 5 part 'How To' video on You Tube and I go to different shires all over the USA to conduct classes. Here is Part 1 of the 'How To' video. Each part is 7 to 10 minutes long and below each video is a Material List:
I also have a Facebook Group called Stayner de Silk Display. It is where I post my work and artists all over the world in the SCA post their creations. They are from Australia, Europe, USA, Dubai, and Canada. It is a place to ask questions and help new people.
The most important thing for people to know about me is that I am not a craft person. It took me 3 years to find something in the SCA that I like to do. I took a class in Oct of 2008 in the Barony of Adiantum (Eugene, OR). I was nervous about ordering supplies and now am so happy that I did. I get a beautiful joyful feeling when making banners for people in the SCA. I feel I help make the Society for Creative Anachronism beautiful one banner at a time.
I have recently moved from Oregon to Nashville, TN area.
Adieu,
Madame du Pont (Camby Collier)
Stayner de silk
Shire de Glaedenfeld (Nashville)
Kingdom de Meridies (lower KY, most all TN, GA, AL and panhandle of FL)
Contact Info
Email: madamedupont@ymail.com
Dharma Products Used
Please see the description for a list of products used.