Pysanky "Ukrainian" / batik eggs
Shopping list:
Let's get started!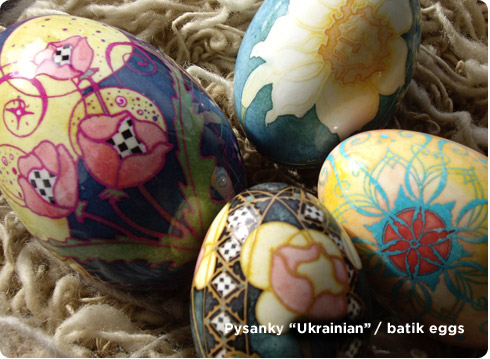 The above eggs were made by our amazing egg painting Featured Artist Chrisinda Bowlin. Chrisinda uses a method with beeswax and Acid Dyes, you can read more about it by clicking here. She was generous with "how to" information, especially on specific instructions how to use the Acid Dye in this unique craft, for which we thank her! Her type of eggs are often referred to as Ukrainian Easter Eggs, but she is employing methods that we all know as Batik. You use the wax as a resist so that that area doesn't take the dye. You can do multiple layers of different colors, protecting a design in each successive layer with a wax design, just like with Batik. You could apply the beeswax with a Delux Tjanting. The size #1 has the smallest hole of all of our Tjantings. You also could stencil wax on, or paint it on with a brush. See more:
Fabric Paints / Fiber Reactive Dye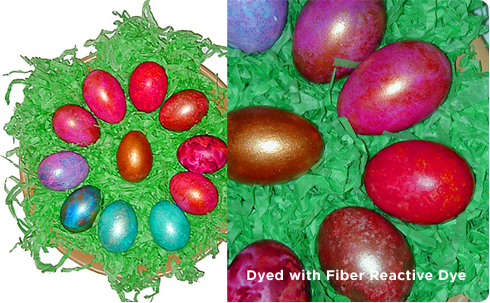 These were made using Dharma Fiber Reactive Procion Dyes and some of our fabric paints. For our eggs, which are pretty even though not spectacular like Chrisinda's, we used Dharma Fiber Reactive Dyes, Pinata Colors for the foundational coloring.
For metallic shimmer as the finishing accent, we used Lumiere metallic paints or Setacolor Perlescent fabric paints.
Procion Dye can be used in a hot water immersion technique with vinegar and a bit of salt. This makes a great base foundational coloring for the sponging layer of metallic paint to follow. Or you can use Acid dyes like Chrisinda does.
For a marbled looking egg, try Jacquard Marbling Colors in 2 or 3 colors. The Mini Marbling Kit is perfect for creating unique swirled eggs.
Again for a textured or sponged looking egg with Pinata Colors. Use adequate ventilation in working with Pinata. These paints dry quickly, so tumbling and patting your egg quickly is advised.
Now, if you want to add on some sparkle and glitter, try sponging on metallic paints. You could use a small sea sponge or a small cosmetic sponge. Pour a pea size of paint per egg onto a palette or a plastic lid (we used the plastic containers from our take out sushi lunch). Dab sponge onto the paint LIGHTLY and dab sponged paint onto your egg.
Or you can pour a small amount (pea size again) of metallic paint into the middle of a clean plastic bag. Then follow the cradling, rolling sponging technique again.
Hint: We used old egg cartons as drying racks. For blown out eggs, use chop sticks stuck into old styrofoam packing material blocks to hold up your egg for drying
Other options - all of our non-toxic Fabric Markers would work on eggs and are a great choice for children as they can just do their own thing. If you are working on blown out shells for permanent decorations or Easter gifts, try also our 3 dimensional raised glue based fabric paints, Jones Tones, iCraft DecoFoil, and of course, you could also use some of our Hot Fix Swarovski Crystal, Rhinestud or Nailhead embellishments for the fanciest eggs in town! You or your kid could be the next Fabergé in the egg world!