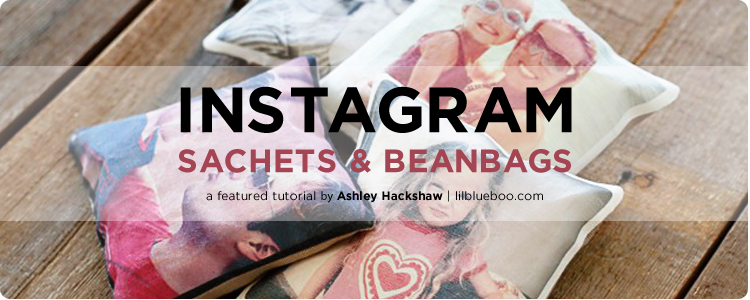 Need a project for all those Instagram photos? I made these little sachets for a gift for Mr. LBB. They are filled with cedar shavings to put in his closet and drawers...or he can just prop them up on his dresser. I made one for my mother as well and filled it with scented potpourri. I want to make a few more filled with beans/barley as baby gifts! Father's day is coming up...they would make great little gifts for the special dad in your life!
Shopping list:
Potpourri, beans, or cedar shavings
To Make Your Instagram Sachets
First, I emailed a few photos to myself from my Instagram feed. (Come find me on Instagram! @lilblueboo) Then I printed them out 4.5" x 4.5" in size onto transfer paper.  There are various types of transfer paper: use a light version for white and light colored fabrics and opaque transfer paper for dark colored fabrics.
I used a white muslin fabric for the front of the bags and a beige linen-like fabric for the back: