There is nothing simpler to make than a furoshiki, essentially it is just a square piece of cloth. Any of our square hemmed scarves will make a great furoshiki, the fun is in decorating it.The "giftee" can wear it or use it in many different ways after, so two gifts in one!
Let's get started!
You can use traditional Shibori techniques such as arashi and itajime in an indigo vat.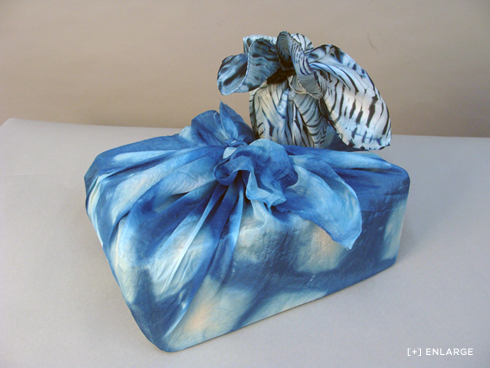 Silk painting with Dye-na-flow and Silk Salt is safe for kids, and professional quality dyes are a great option for even more brilliant long lasting color.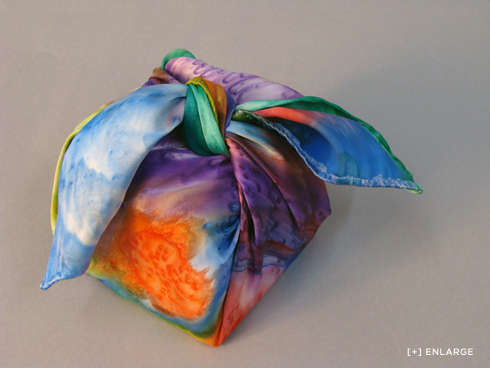 Ice Dyeing is another great technique, check out our ice dyed furoshiki tutorial.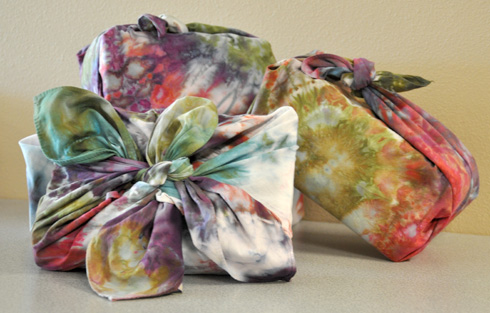 To Make Our two furoshiki below:
We used a low immersion technique with Dye-na-flow flowable fabric paint, which is non-toxic, and behaves somewhat like a dye.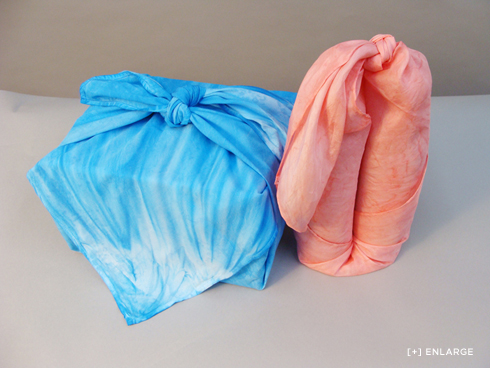 Add one 2oz Dye-na-flow to 1 cup water and stir well.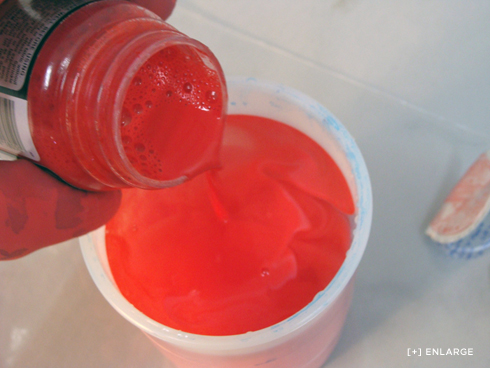 Scrunch up your future Furoshiki in a plastic bag or tupperware and pour the fabric paint over it. Scrunch it around with a gloved hand until the fabric is totally covered in paint. Allow it to dry scrunched up over a couple days for an over all crinkled texture. You could also apply more then one color to the fabric with squeeze bottles for a more tie-dyed look. Put it out in the sun for an even different effect, to dry while scrunched.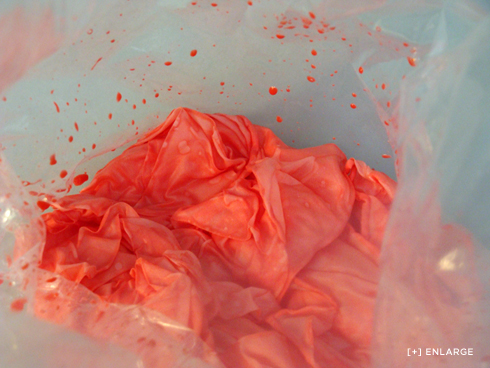 Once the furoshiki are dry, ironed and washed, they are ready to use.
How to fold a furoshiki:
Bottle Carrier:
First layout your Furoshiki at a diagonal so one corner points toward you. Place the two bottles in the center.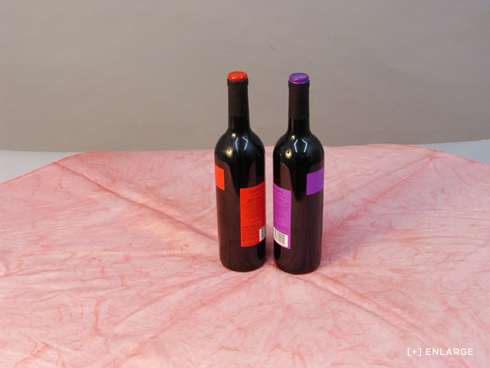 Lay the bottles down on their sides and roll them a little towards you so they are slightly off center.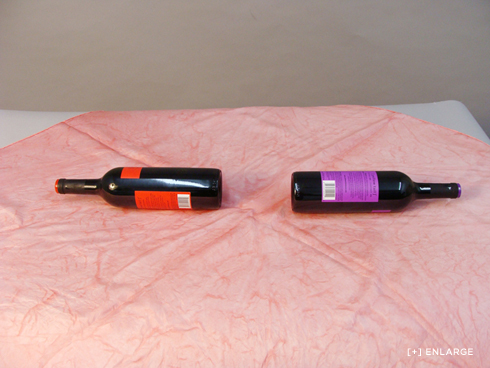 Fold one corner over the bottles. It will not line up all the way, that is OK.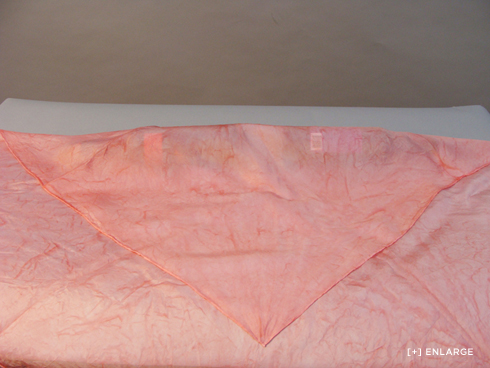 Start rolling both bottles away from you so you make a sort of bottle and fabric sausage.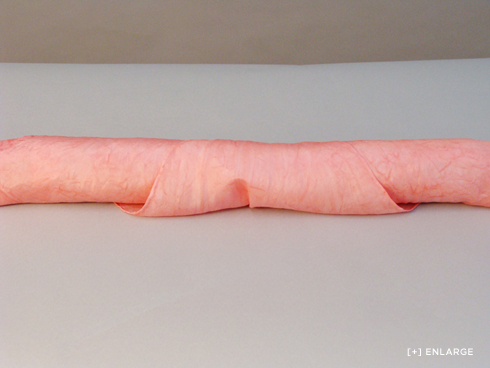 Now fold the two bottles back up into a standing position, make any adjustments to the fabric so the roll is snug.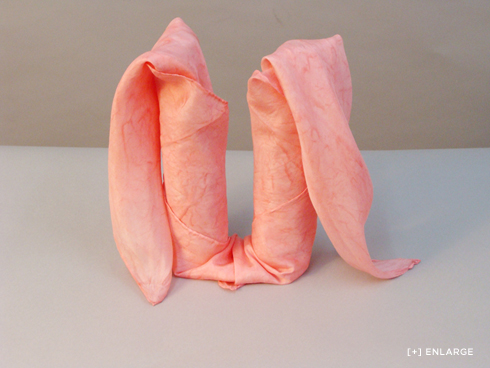 Take the two ends of the fabric and tie them in an a simple square knot. This forms a bow and handle all in one. Now you have an attractive way to bring beverages to a party that is also easy to carry and will pad the bottles.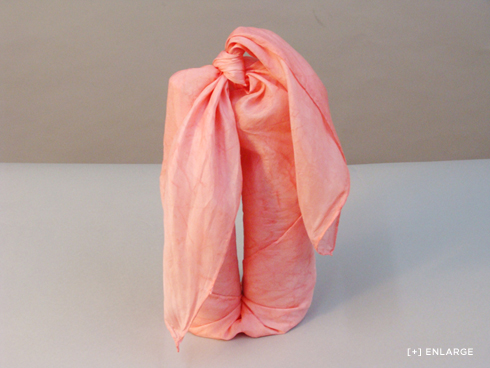 Wrapped Box:
First layout your Furoshiki at a diagonal so one corner points toward you. Keep in mind one corner is going to show on the top of the box so pick the most interesting corner to overlap the top. Place the box in the center.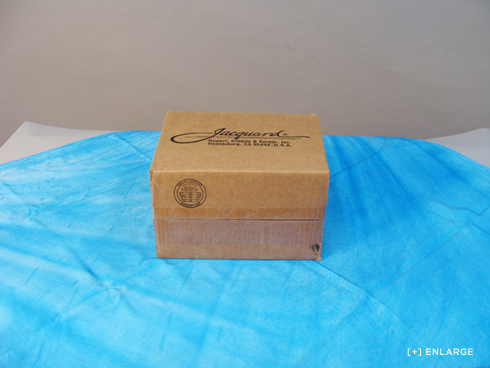 Fold the first corner over the box.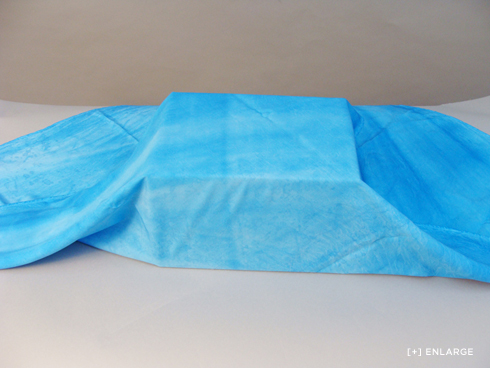 Fold the opposite corner over the box, this corner will show.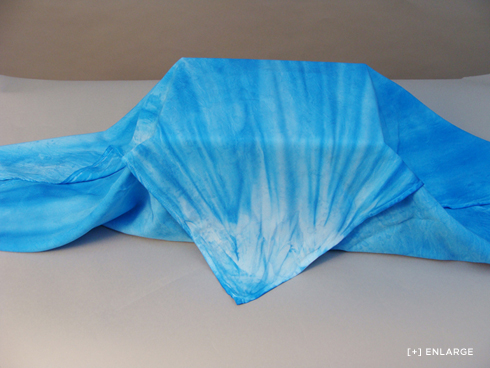 Next you will bring the other two sides of the fabric up over the box. You will want to gently tuck the fabric so it lays smooth. Start with one side and then the other.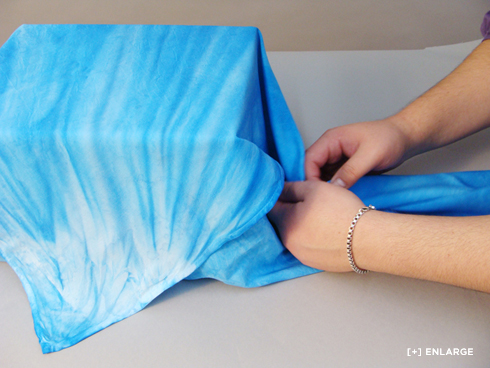 Now grasp the ends of the fabric and pull both sides straight up, make a half square knot and pull down firmly.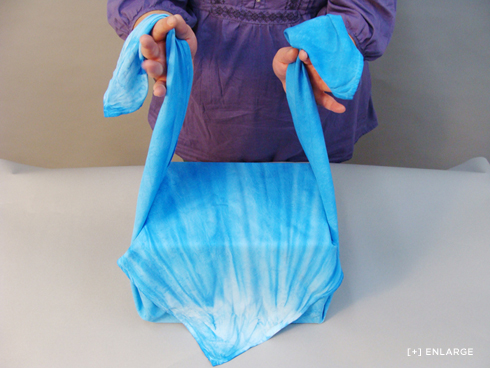 Make one more half square knot, arrange the corners so they make a nice 'bow'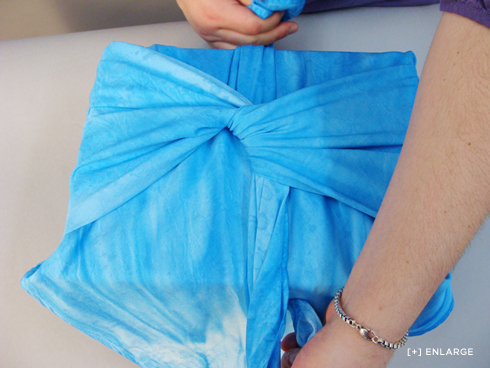 Now you have a nicely wrapped gift.
Devore Silk scarves dyed with Alter Ego Dyes also make for a bright graphic furoshiki.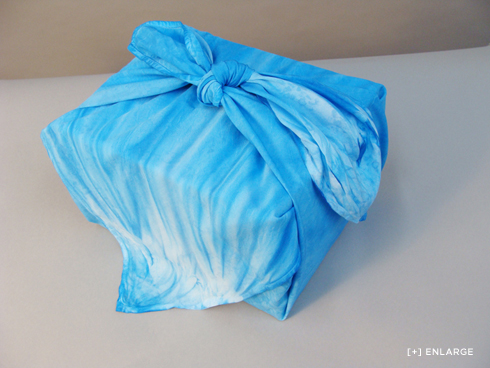 Here is a great guide to more wraps for Furoshiki, including how to make an easy shopping bag.
Furoshiki are the ultimate multitasking cloths. When they aren't being used to wrap gifts they can be used as picnic mats, table clothes, scarves, a bag, bowl covers, play silks and more. No more will you have to dispose of all that paper and your gifts will be the envy of all the others!