Featured Artist : Ron Davis
|

www.tiedyeron.com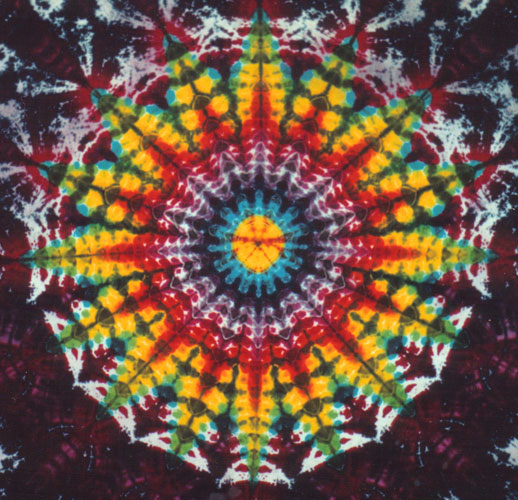 Artist Bio / Statement
My name is Ron Davis, and I have been making tie-dyes for over 20 years. When Brooks and Flynn went out of business, I became a Dharma Trading Co. customer, and have been ever since. Taylor Brown, a good friend of mine, wanted to tie-dye. He offered some folks that had learned at "The Farm" as much as a thousand dollars to teach him, but none would as they had sworn an oath not to share their craft with any outsiders. He instead read all he could find on tie-dye, bought a new tie-dye every week, and took it home and tried to recreate it, experimenting with every conceivable variable. Finally, he developed a wonderful style unlike any I have ever seen. His work is really awesome. I watched him for years develop his craft. Often he would suggest that I try my hand at it, but I thought I could never do anything like that. Then I began a job that involved sitting around watching someone watch TV all day and I got bored. I thought about Taylor and his wonderful tie-dyes, and I began to experiment as well. My first batch was great. I made a dozen shirts, and when they were finished, I sold all 12 of them in one weekend. I got really excited and spent that money on more dye and more shirts. Over the next two decades, I have done a lot of experimenting myself and have dyed with many other people, picking up tips and tricks, and I have taught many people who have, in turn, taught me many new techniques by saying "Why can't we do it this way?" Usually I would start to explain why, then I would catch myself and say "Why not." Tie-dye has supported me not only financially (never will get rich, but will never starve either), but it has also opened up a wonderful world that I would normally have never known.
I followed the Grateful Dead, have been able to travel extensively, met wonderful people, and I have never had a hard time coming up with a birthday or Christmas gift for anyone :) I once left the United States with 60 dollars and a backpack full of dye and went to Central America and spent a year teaching tie-dye and making shirts. It has been a wonderful life. Today, I do very little production work. Mostly I make things for family and friends and just enjoy it as an art form rather than a trade. I have discovered digital art, which is easier to clean up afterwards.
Contact Info
My website is www.tiedyeron.com and my number is 1-(800) 257-6130. Call for wholesale info. I am also available for one-on-one teaching sessions at a reasonable rate, at your shop or mine.
Dharma Products Used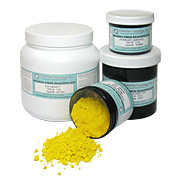 Dharma Fiber Reactive Procion Dyes
This is the #1 best dye we recommend for tie-dye, batik, dye-painting or screening, etc. on cotton, rayon, bamboo, Tencel®, linen and other natural fibers. Also for solid color dyeing and many other techniques!