Featured Artist : Nancy Katz
|

The Eye of the Needle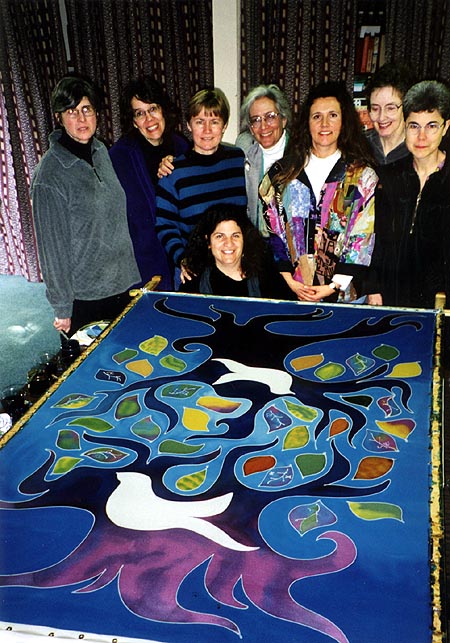 Artist Bio / Statement
Internationally recognized for her textile and graphic work, Nancy Katz has been painting on silk full time since 1990, after serving as one of the original members of the crew of the NAMESProject, the AIDS Memorial Quilt. Well known (especially throughout the Jewish Community) as an arts educator, she is committed to creating ritual objects that are both relevant and accessible, and is best known for her one-of-a-kind handpainted silk tallitot (prayer shawls) for women and men of all ages.
Nancy facilitates art projects with a wide variety of populations, convincing even the most "uncreative" of their potential. Over the years, she has worked with dozens of groups in varied settings, from summer camps, to retreat centers, to classrooms and synagogues, as well as with individuals, couples, and families in her inspirational Berkeley, California studio.
Nancy's artwork, can be found in galleries and private collections throughout the United States & Israel -- in synagogues and in private homes -- as well as at the Judah Magnes Museum of Berkeley, and the Israel Museum of Jerusalem.
Whenever I turn people on to silkpainting (and I do it all the time!), I warn them that it is an addictive activity. I assure them, though, that I will let them know how to get the goods to feed their addiction. Naturally, I direct them to Dharma Trading, and specifically to the line of Jacquard silk products. There's absolutely nothing like the richness of color from the Jacquard dyes. Also, the manufacturer is very responsive to any questions or concerns regarding his products. I'm hooked!
Nancy Katz,
The Eye of the Needle
Contact Info