Featured Artist : Lucia Boehm
|

Creations in Silk - Art to wear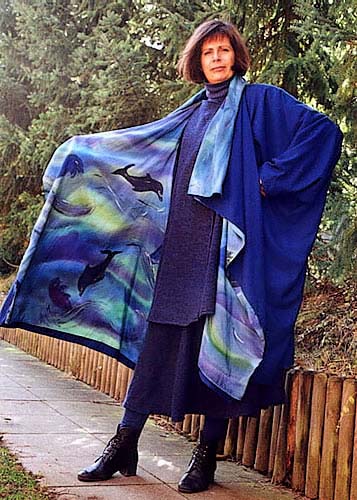 Artist Bio / Statement
I was born in Buenos Aires, Argentina, where my family lived for a few years before we moved back to Germany. All through my childhood I had this strong wish to design and create fashion to wear. My mother showed me how to sew, and when I was sixteen, I bought my first sewing machine. I never doubted the profession I would persue after school, but as it turned out, I did study and work in something completely different. That was in 1968.

At the end of 1985 I got a starter kit for silk painting as a birthday present. It took another three months before I found the time and courage to try it out. I started with small pieces of silk, but quickly moved on to larger ones, and so I started putting into practice what I had always wanted to do - create art to wear. At first, I worked only for myself - I was my best model - but then people started to ask me if I could create something for them. That's how my little enterprise began to grow.

I always use heavy kinds of silk, like crepe de chine, and crepe satin. For painting, I like to use Dupont Silk colors. They are the most brilliant ones.

When I start to work for somebody, there is a whole process involved. I have to know something about the person I'm creating for so that I can decide the kind of colors to use. Usually I sit quietly in front of a piece of paper and try to get a feeling for the person and what would suit her. Then comes the moment when I feel my hand start moving and something appears on my piece of paper. When I'm painting, I have this feeling of being completely empty - like the white piece of silk - and out of this emptieness comes this colourful something. It is always an adventure, and I never paint the same thing twice. Every piece is unique, created for one person.

So, if you have the feeling you would like to wear something special... Maybe you should contact me.
Contact Info
Dharma Products Used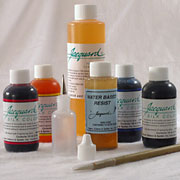 Jacquard Silk Colors (Green Label) - Starter Set
Everything one person needs to try out silk painting. Just add scarves!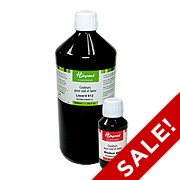 Dupont Silk Dyes - French Silk Dyes
Dupont Silk Dyes are very popular throughout the world and are used by many professional silk artists. Very concentrated!