Featured Artist : Karen Sistek
|

Karen Sistek Studio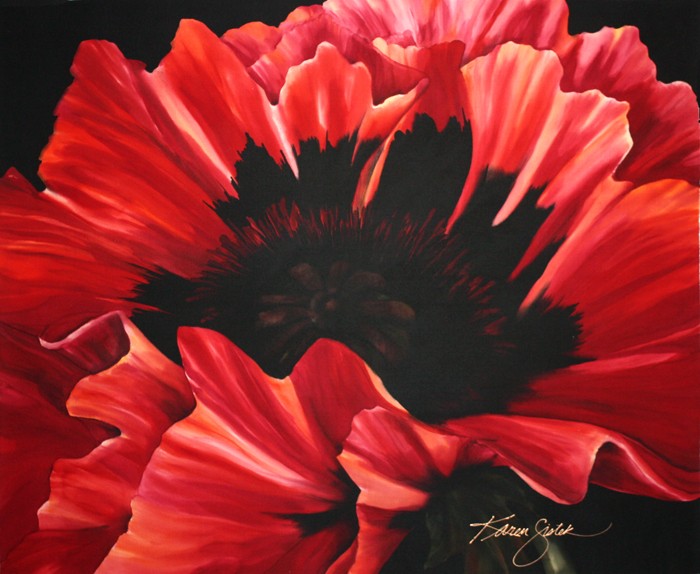 Artist Bio / Statement
I am as infatuated with silk painting today as I was the first time my brush touched luxurious silk more than 20 years ago! Each project is new and exciting - an adventure - and always an experiment.

My passion is big, bold florals! I love zooming in close, as a "bug's eye view" would be, capturing the life at the center of the flower, or enhancing the flow of the petals that have extended their arms, as in a dance - the "Grand Dammes " of the garden, moving and swaying in cadence with the breezes.

Through experimentation, I have discovered a way to pre-treat the silk, filling the fibers and allowing me to create fine lines without the use of thickeners, resists, or guttas. This allows me to create a watercolor effect, but on luxurious silk.
I have recently switched to using Jacquard RED label fiber reactive steam fix dyes. I love the vibrancy and sheen, and the colors are "OOH LA LA!"

After my pieces are painted and "fixed," they are mounted using Nova matte varnish on canvas stretched around frames that my husband makes to my specifications. The varnish protects the silk from the environment and enhances the colors to the max! Once mounted, the silk seems to "float" on the wall.

I am happy to share my technique. I offer classes in my studio, located on the NW tip of Washingotn state. You may view more of my art and classes by visiting my website, www.karensistekstudio.com.

I have been a customer of Dharma Trading since the beginning of my silk painting infatuation. They have always been great to deal with, very informative and supportive, as well as well-stocked with every supply that you can think of for your silk painting needs! I hand out a catalog to all of my students.

I am very honored to receive such wonderful, loving support from my husband, family, and friends. Without them, I could not
survive, and my world would be without color!
Contact Info