Featured Artist : Lane Guyot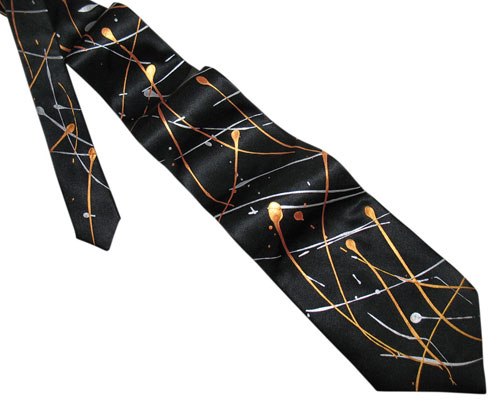 Artist Bio / Statement
Dear Mr. Goff,
Hi. My name is Lane Guyot. Way back in 1986, I learned how to tie-dye. Naturally, like everyone else, I started out with Rit Dye. From there on, I found someone who introduced me to Procion Dye and your company.
And shortly after learning one type of tie-dyeing, I learned how to batik with hot, melted wax. It has been 20 years now. I dye, about 6-8 times a year, usually in my garage. I don't do batiking as often - mostly for special ordering. All of my dyes come from Dharma as have the recently released how-to DVD's (202&303). I will be getting 101 sometime soon.
Recently, I have delved into using your medium grade black and white silk ties as a backdrop for spatter painting. I am a 32° mason at the Minneapolis Valley Scottish Rite Lore in Minneapolis. A lot of my Masonic brothers have been interested in the final outcome of these spattered ties. I also use your Jacquard and Jacquard Lumiere paints when spattering these ties. And I will continue to use them. They work well. I do not have a website yet, but am considering to do so. I will let you know, when that comes about. I have enclosed a sample of my work for you to wear. I figure that you probably dress casually at work, but, maybe it would be possible that you could wear my tie. You don't have to wear it a lot - just once in a while. I want to thank you for having these products available in your catalog! If they weren't there, I wouldn't be producing them for myself or others.
I hope that Dharma is around for a long time - I like doing business with your company - everyone is always very friendly and accommodating. Thanks for that! Enjoy your tie!
Sincerely, L.F Guyot
P.S. I recently checked out your Featured Artist section of your web site. You have some very talented people who buy from you. I loved looking at their work.
List of materials mentioned:
STC19B - 10mm Habotai - Black
LN - Lumiere Paints
Contact Info
Dharma Products Used
Please see the description for a list of products used.