Featured Artist : Bernadette E. Kazmarski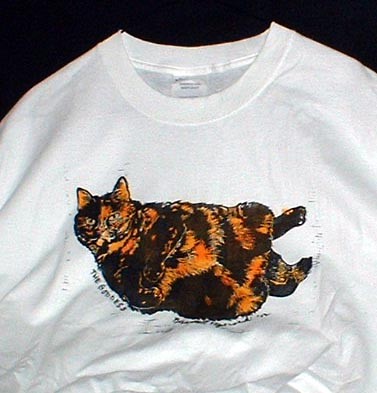 Artist Bio / Statement
I was inspired to draw by watching my cats, and their images and antics have always been my favorite subjects, followed closely by other animals and images of nature. I began playing around with block printing to make my own cards years ago, then as I became more skilled, I cut more detailed blocks, as always, making a new move with images of my cats, then moving on to other subjects. I printed them in basic ink colors and hand-colored some prints using watercolors.

People don't always want art for their walls, and they love t-shirts, so I decided to re-create my wall art as textiles. I discovered Dharma Trading Company and purchased a large box of mixed tees and Dharma Pigment Dye. Ten years later, I'm still printing tees, as well as tanks, and even silk scarves in addition to tablecloths and other items. I started out with Fruit of the Loom tees, but more recently began using the organic cotton tees. I always use men's sizes because that seems to be what people expect. Because I use an oil-based ink for the block printing, I needed to find a dye that didn't need chemicals, heat, or scrubbing to set it, and with the help of some wonderful person at Dharma, I chose Dharma Pigment Dye.

First, I print the block print on the garment with oil-based ink and let it dry. Then, I use Dharma pigment dye diluted with water in one jar and plain water in another, and paint my prints just as I do with my watercolors, sometimes pre-wetting the shirt, or sometimes applying the dye directly to the shirt. Then, I just let it air dry. Since the shirt had not been "set" in any way with heat or washing, I did plenty of washing experiments with scraps of fabric and bad prints (ink smudge where the hem of the shirt flipped up over the design, dye spots from the brush trailing all over the shoulders…) and made them up as best I could. Washing instructions are simply to wash on gentle in cold water, as most people would, I hope. Each hand-printed, hand-painted shirt is signed just like my prints.

I only do this part-time. The rest of the time, I am a self-employed graphic and web designer, illustrator, fine artist, and writer, combining a degree in English and a love of art, animals, and nature to create logos, brochures, websites, portraits and paintings of the things we love and the world around us.
Contact Info