Featured Artist : Kathleen Borkowski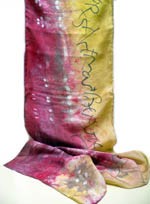 Artist Bio / Statement
I'm Kathleen Borkowski. I have been a lettering artist since the 1980s when I took my first calligraphy class. To this day I never tire of putting letters, words and symbols together to create an image. I love photography, watercolor, painting and simple jewelry making, and always find a way to make letters and symbols part of my designs.
In 2011, I got inspired by another calligrapher to try making letter designs with the devoré technique and discovered Fibre Etch and the tutorial videos through Dharma Trading. My experiments were amazing and beautiful. But it was the Habotai Silk scarf that I received free with my first order from Dharma that got me absolutely obsessed with dyeing scarves! The first one I made seemed to practically paint itself. The colors were vivid, luminous, and radiant! I immediately ordered more Habotai scarves and researched tie-dye in the process, and learned about shibori techniques. I made a series of "Secret Message" scarves with lines from love poems by Emily Dickinson, E.e. Cummings, Robert Burns, and Sappho, as well as my own words using Marvy and Tee Juice fabric markers, and then over-dyeing. I'm fascinated with the endless beauty of the Fiber Reactive Procion dyes and the endless variety of color that is available with mixing just a few colors. I continue to be amazed with the process and can hardly wait to rinse out my scarves to see the unexpected patterns and color combos that happen overnight. I have a goal to create 100 scarves in 2012.
My friends and family love my scarves and keep calling me up to find out when they can come over to get "first dibs" on my new creations!
Contact Info