Featured Artist : Valerie S. Goodwin R.A.
Cartographic Art Quilts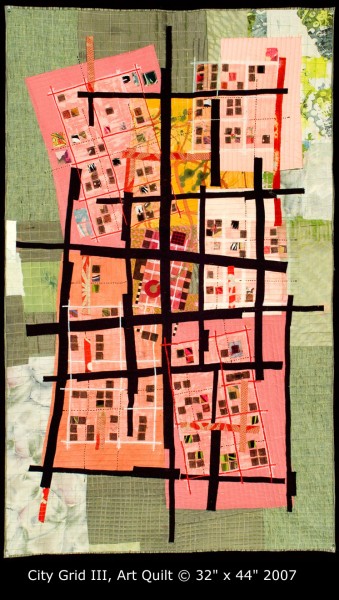 Artist Bio / Statement
I am an architect and college professor educated at Yale University and Washington University in St. Louis. Making quilts became my passion in 1998. Since then I have found the designing and making of quilts to be just as satisfying as the design and study of architecture. My artwork has been widely published and exhibited. In addition, I give lectures and workshops internationally. If interested, my email is listed below.
My map quilts are inspired by my love of aerial views of landscapes and cities. Many of my quilts are based on maps. My art has moved through various stages from traditional quilting to an interest in abstract expressionism, and more recently, work inspired by real and imaginary landscapes and cities. In some cases my work shows an architectural sense of space with an archeological perspective. In others, the network of the city and its built form is more prominent. My compositions work on a number of levels, from close up and far away as if you were looking at it from above.
I have developed a technique that gives some of my work a painterly feeling. An important part of this process involves the use of Silk Organza for creating layering and transparency. This natural material is great for adding texture as well. Dharma Trading Company is a great place to purchase it by the yard. I keep plenty of it on hand. I use it all the time just as a painter might use a tube of paint.
Contact Info