Featured Artist : Pamela Martens and Marsha Markle
Wabi Sabi Artwear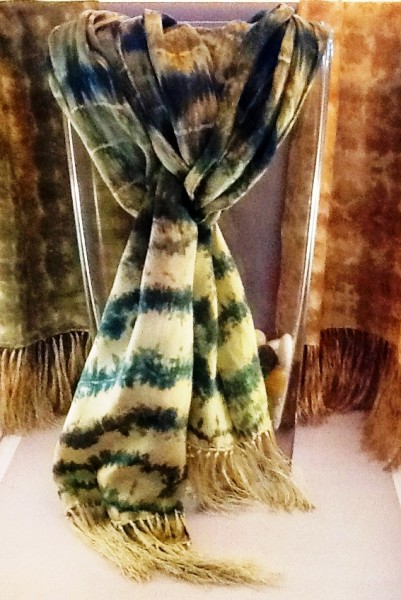 Artist Bio / Statement
We are Wabi Sabi Artwear. Pamela Martens and Marsha Markle are artisans who create a variety of body and home enhancing art. By day, Pamela is a school speech-language pathologist and assistive technology specialist. Marsha is a retired school psychologist who currently works as a special education advocate and teacher at National University. As friends, we partnered first to create paper-based jewelry. Our collaboration evolved with the addition of beadwork, dyed silk, and basketry. Pamela went on to develop her skills in lampwork beadmaking while Marsha worked in polymer clay.
We reunited our partnership to work in silk again. The creations are one of a kind silk scarves that are sophisticated, organic, and multi-layered with color and designs that build a personal history. Our process is one with endless possibilities. We are not restricted by expectations or rules. One of our favorite sayings is "If they tell us not to do something, let's try it and see what happens!" Luckily, we haven't blown up, succumbed from fumes or experienced any other catastrophe. On the contrary, we have refined our processes to achieve surprising and beautiful results.
We are inspired by timeless techniques, organic designs, and colors that either soothe or excite. For us, the journey is truly a joyous time. As we decide on colors, designs, and wonder "what would happen if...?" or, "I can't wait to see how x and y blend!", we wait like two kids on Christmas morning for the gift that is about to be unwrapped. Once we unveil the scarf we are amazed at what we have created. Then we freak out and try to trace exactly what we did to achieve these results and realize that these truly are one of a kind scarves!
We prefer the soft sheen and weight of the fringed flat crepe scarves. The fringe is beautiful and takes the dye with a slightly different hue that truly compliments the body of the scarf. We use either Tinfix or Colorhue dyes. Our choice depends on whether we want the result to be modern, antiqued, elegant or weathered. We use Dharma's Professional Textile Detergent and Jaquard Permanent DyeSet with the Tinfix dyes.
Contact Info
Our website is in the developmental stage, in the meantime you can reach us at:
marsha@wabisabiartwear.com
pamela@wabisabiartwear.com
Wabi Sabi Artwear