Featured Artist : Chris Christie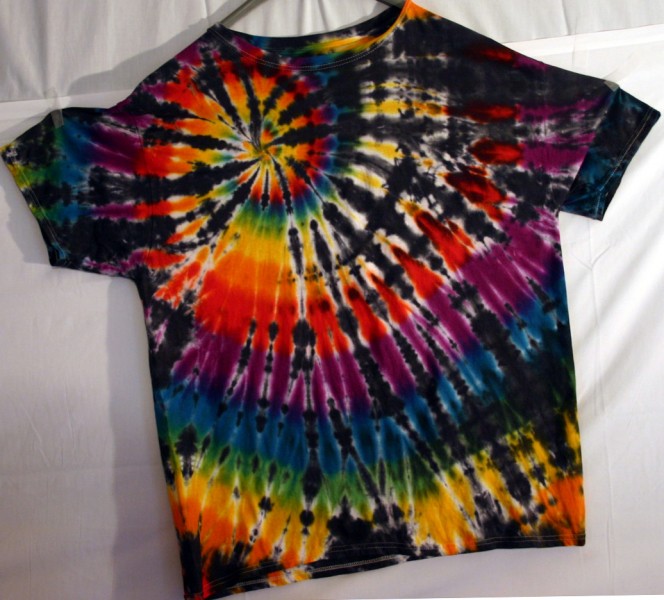 Artist Bio / Statement
My name is Chris Christie. I hold a BA from Chester College of New England and have studied art in Viterbo Italy with the Montserrat College of Art. My work until now has been largely non-commercial, and I maintain a blog site called RavensGawk Studio. I recently found an outlet for my creative juices in the form of tie-dye. A few months ago, my wife, Beth, bought a small kit to make a few shirts with our niece, and the next thing I knew, we were ordering bulk supplies from Dharma Trading Co, and soon our dining room and spare bedroom were overrun with t-shirts. Now we have opened an Etsy store and are looking forward to expanding on our new-found medium.
I have always felt that my art creates itself through myself, and I cannot pinpoint any particular source of inspiration other than that when I feel it, I go with it. Most often it is the entropic randomness of nature that draws me into a creative mode. My preferred mediums include writing, food, oil paint, charcoal, and 3-D design.
I have been involved in artistic endeavors all my life, and I can say from experience that if you really want to create work you love, there are a few simple things to remember. 1, Kill your inner critic. 2, Wait until you actually finish the project before deciding whether or not it works as a whole. It will seldom look right at the half-way point, and this is when many people decide to give up on it. 3, Do not let the opinions of others sway you either for or against something. You must do what it right for the piece you are making. I've sat in classroom after classroom and have done many workshops full of people who had their own opinions about the road my work should be taking. Sometimes I take the advice, sometimes I ignore it, but ultimately I do what is right for the piece I am making, and remember there is no accounting for taste.
I first heard about Dharma when it was name-dropped in a Spiral Design YouTube video by "BatonRougeBill." We checked it out, and now Dharma Trading company's tie-dye supplies are an important part of our craft. I also look forward to tie-dyeing the Rayon and Bamboo clothing.
Contact Info