Featured Artist : Nicki McIvor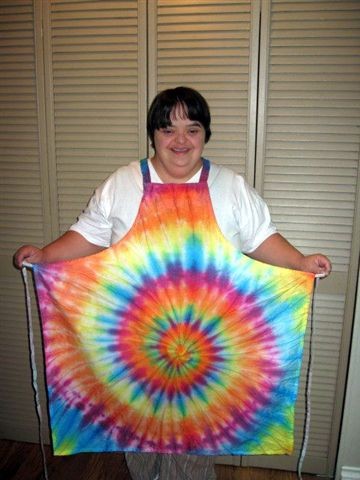 Artist Bio / Statement
I'm Nicki, I live in Canada with my husband and 29 year-old special needs daughter, Jessica (she's the one holding the apron ), and I really do love tie-dyeing. I started off about 2 years ago for my own personal use, as I love intense color. I work in my own tiny kitchen here at home, so lack of space can be a problem. It's turned into a real stress release for me, and I take a lot of pride in my finished results!
It seems like there is always something new to learn, and to me this is thrilling!
I like to create exciting patterns with long-lasting, beautiful color combinations.
I spend up to 12 hours almost every day tie-dyeing. I think I've almost done it all ! I love to work with dark colors as well. I think that my stained glass work is my very favorite of all. I use Dharma's basic Fiber Reactive Dye colors, but when it comes to black, I like to mix up 2 or 3 different numbers and go for a real dark solid black.
My idea of making t-shirts with their own matching hoodies is really taking off well!
Contact Info
I also sell my creations on Facebook, where I currently have 5 sales albums.