Featured Artist : Alison Patron
Du'Terte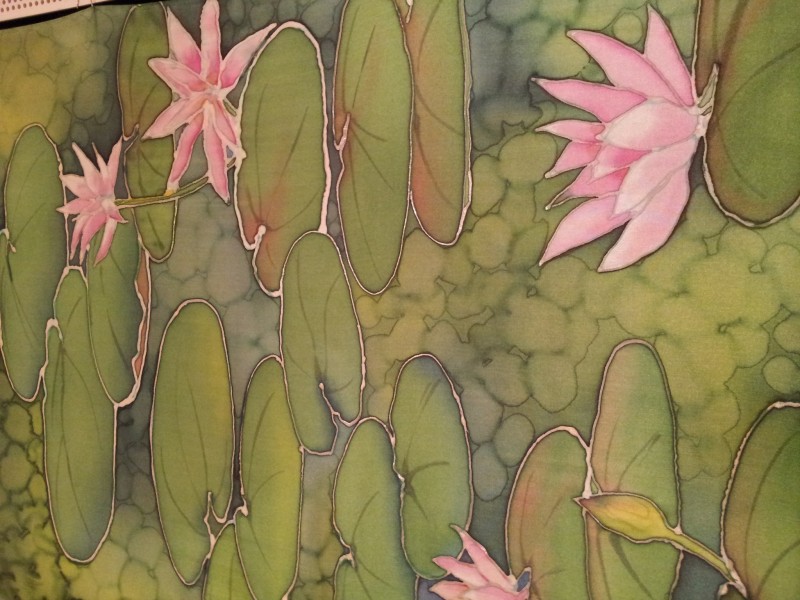 Artist Bio / Statement
My name is Alison Patron. I am a watercolor artist, as well as a silk artist. I have been painting watercolors since I can remember. I had a "one-man" show in Switzerland with wonderful success! I have just recently learned the art of painting on silk on a chance trip I took to Burgundy, France a year-and-a-half ago. I have not stopped painting on silk since!
I was more curious about how the silk would work as a canvas for me. It was exhilarating to say the least! It has changed me as an artist, in that, with silk as a canvas, there are no boundaries. I love how the dye flows on the silk and mixes in the fibers, as well as how the colors are so vibrant. I think I got it bad!
I design through inspirations from nature, capturing what Mother Nature has given. To me, she is the ultimate artist. That is my passion, to put into a painting whatever takes my breath away.
I use
Jacquard Red Label silk dyes
. They steam very well, and the outcome is a clear, vibrant color. I also use the
Jacquard brand water-based resist
, as it washes off very easily after the steaming process. Also, I do not have to add water to the resist, as the consistency is fine for me.
I am happy to share my creative process. I offer classes in my hometown in San Diego, CA. For particulars on the classes, please visit my website,
duterte.biz
.
I have only good things to say about Dharma Trading. They have been a great resource for all the
silk painting materials
, as well as the
silk painting process
. They have been great in helping me with my orders, always making sure I am happy with the materials. They are informative as well as supportive of my work. They offer pretty much everything for your silk painting needs. They've found a perpetual customer in me!
Contact Info