Featured Artist : Fraya Aguilar
Painted Lady Clothiers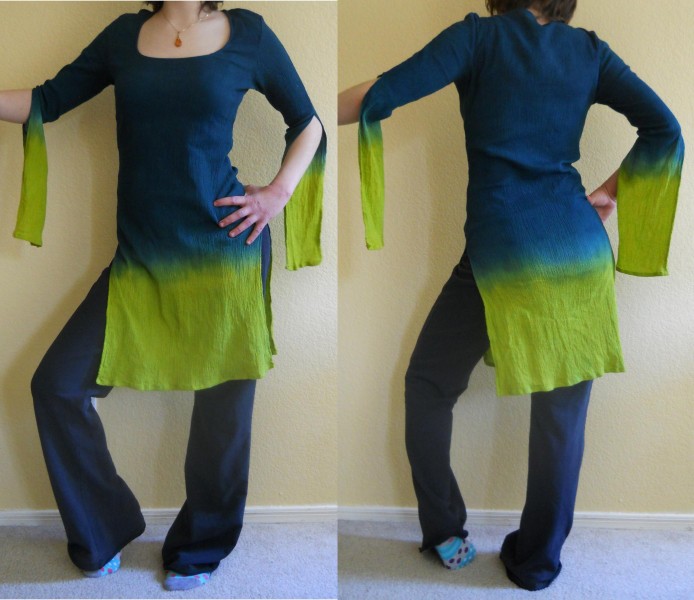 Artist Bio / Statement
Fraya began sewing in sixth grade, learning under the watchful and talented eye of her grandmother, who could create the most beautiful quilts and embroidery in the area. Later, her mother, who had learned the art of tailoring, taught her the finer points of the art.
In 1989 Fraya began creating clothing for medieval reenactment, and in the early '90s, she had items featured in Museum Replicas catalog. By 2004, Fraya had started sewing clothing for tribal belly dance, and in 2006 she had delved into the Victorian and steampunk fashions.
Coming from a family of artists and entrepreneurs, it was natural for Fraya to follow her folly and put her talents to work bringing a smile to the wearers of her fashions and to the audience of those watching them. It only brought her more joy when her daughter, Amber, during a difficult time for Fraya, started learning the art of dyeing and sewing to help keep up with the blossoming business with clientele from all over the world and with all sorts of interests.
Whether you're wanting clothing for the stage, faire, high tea, or want to express yourself with unique fashions, Painted Lady Clothiers is your best choice for all your unique fashion needs.
We specialize in Medieval, Victorian, and Tribal fashions. We strive for accurate representation of the era and trend, as well as custom modifications for modern flair with old world appeal, with a focus on the eclectic and exceptional. Our purpose is to offer the highest quality we can, with the best attention to detail, and to produce durable and affordable garments that will survive years of active wear.
Our featured items and most popular are the vibrant hand-dyed 18 and 25-yard hem skirts and long "J'ella Gowns" both used in Tribal Style Belly Dance. For everyday beach or warm weather wear, the J'ella Gown over our wide legged pants or 18-yard hem skirt is a dramatic and beautiful expression.
All of our items are created by Fraya Aguilar with help of her daughter, Amber, and all of our hand dyed items are made using Procion Fiber Reactive dyes. By following the instructions and suggestions from the Dharma website, our skirts have become more vibrant and dramatic, and thus some of the most sought-after skirts in the tribal industry. Our skirts and ensembles are inspired from the unique personalities of each customer, how and why they dance or express themselves, and the reason they want the clothing. We are frequently posting color chips on our Facebook page of two-to-four color combinations our customers dream up and help them create the most beautiful costume. Tribal style belly dance is by far the biggest influence on what we create, and each skirt is made to enhance the costume and movements of the dancer.
Our website is currently under construction, which is not an easy task considering the number of photos and color combinations we offer thanks to Dharma and its large array of Procion colors, but we have set up a temporary store on Facebook, and our Painted Lady Clothiers page has albums full of our completed garments to browse through.
Contact Info
paintedladyclothiers@gmail.com
Follow us on Twitter: pntdldyclothier