Featured Artist : Phyllis Boger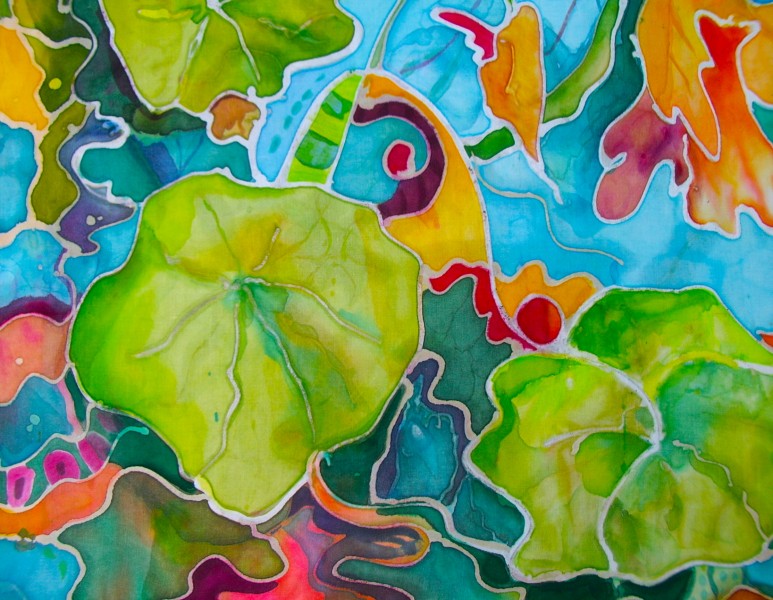 Artist Bio / Statement
My name is Phyllis Boger.
I received my BFA from Barat College, in Lake Forest, Illinois and was a recipient of a scholarship award to attend the Art Institute of Chicago, where I received a degree in Art Education. My Masters of Fine Arts, in painting, was earned at Western Connecticut State University. My paintings have been accepted into many regional and National exhibits and have won several awards.
As well as teaching painting and drawing, I teach batik and resist painting workshops, I have taught in Tennessee, and various art societies and schools in New England, South Carolina, Illinois and Italy.
I have used Dharma products for years. I have tried all of them, some you don't even carry any more. I use the Jacquard Green Label and Sennelier Tinfix dyes when I paint on silk and plan to steam. When I teach classes I use the Dye-na-flow since it is so easy to heat set. I make dozens of silk scarves each year.
Travel, trinkets, and nature of the south and New England, inspire my work. I like to think of my painting style as "expressive realism". My silk paintings and batiks are influenced by fabrics, from the far east, that were given to me by my favorite aunt, who worked in the US foreign service.
Contact Info