Featured Artist : Gail Mac Lean Johnston
Hippie Chix Fiber Art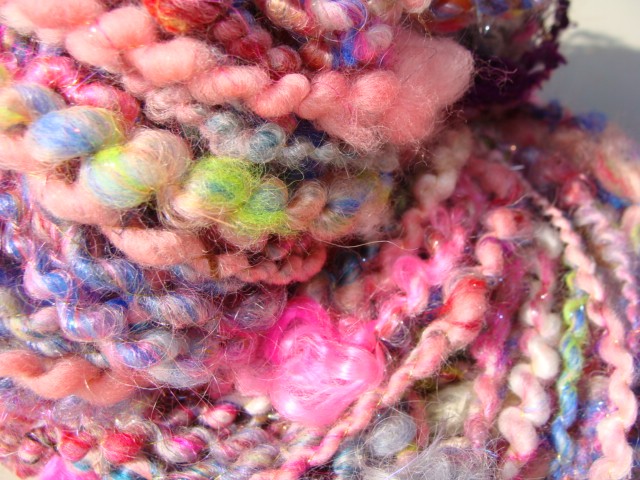 Artist Bio / Statement
Hello, my name is Gail Johnston I am originally From New England. Moved with my parents to central Florida went to college entered originally for Nursing then Business and Marketing. I entered the Masters program for Health Administration and completed a year and a half. My dad was diagnosed with terminal cancer and my mom needed more help so I dropped out of the University of Phoenix 9 courses shy of completion.
I worked as a nurse for about 12 years in Hospice, Dialysis and several other areas in our local hospitals. I was recruited into Pharmaceutical Sales for 14 years before moving with my "SoleMate" Tim a family practice doctor who practices across the lawn from our home.
One of his patients asked him if he wanted 3 Llamas and me being an animal lover I asked him PLEASE!! I knew nothing, nada, about Llamas but we fenced another area of the pasture and went to get these critters. OMG! They had not been sheared for about 3 years and looked like they weighed 500 pounds. Within the next few days the vet and shearer came out and What! they were so skinny like bad. We nurtured them back.
I use fiber reactive dye and dye everything, even my dog hair after her clips. I card anything I can then spin it and make all sorts of items and use it in my weaving as well. I had never spun or even thought about it till I had 300lbs of llama fiber that went to Michigan to get processed.
In the meantime I was connecting to the Llama community and we were invited to East Bend, NC for a fiber weekend and I was amazed and totally blown away. That Monday I bought a wheel, we rescued 8 more Llamas, all the girls pregnant. Now it is a full fledged business and I LOVE it!
We have 13 Llamas, 10 Mini horses, 5 angora goats one Pygora goat 2 dogs a rescued race horse and an amazing husband and a new addition Stewart the newest itty bitty horse. Oh and I forgot a rescued angora bunny Winston.
Peace, Love Happiness, Laughter And Much Great Health, Cheers, Gail
Contact Info
Gail Mac Lean Johnston
Hippie Chix Fiber Art
gailjohnston@frontier.com