Featured Artist : Shawn Reeves
Tri-Dyes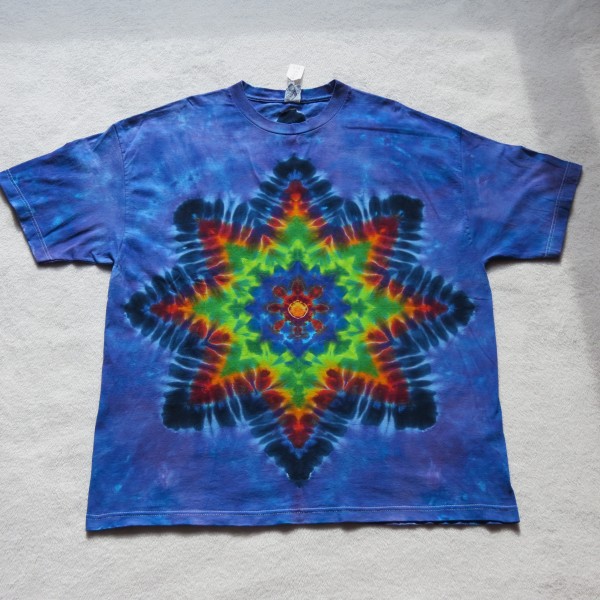 Artist Bio / Statement
My name is Shawn Reeves. I'm a tie-dye artist from Ankeny, Iowa. I started creating tie-dyes about 23 years ago when I was in high school. About 6 years ago, I decided to get serious and really work on perfecting my skills and create new designs. My wife and I started selling my work at local farmers markets which led to the beginning of our business, Tri-Dyes.
Although my first tie-dye efforts primarily focused on t-shirts, we have now expanded our inventory to a variety of adult, children's, and baby apparel and accessories. I have also recently added doggie tanks and shopping bags to our product line.
I think the most inspiring part of my dying process is planning the color combination. I am very methodical about selecting just the right colors and combination to go with the design that I've folded. I plan the colors before I start the dying process. I also try to introduce at least one or two new colors into the mix each year to change it up. I'm also inspired when I see others wearing my dyes. It's always a different perspective to see your work actually being worn. I try to keep things evolving and maintain fresh design and color combinations.
I use Procion Dyes from Dharma because they provide the largest and best selection of colors. This assists with my goal to keep the colors bright and bold. I also like Dharma's vast aray of 100% cotton apparel to choose from. We use items from their line of rayon products as well. The rayon scarves dye beautifully. I've been working with Dharma products for years and have always been satisfied with their quality and service.
Contact Info
Shawn Reeves
Tri-Dyes
Ankeny, Iowa
tridyes@earthlink.net
www.facebook.com/tridyes
(515)720-8089