Featured Artist : Lauren McHale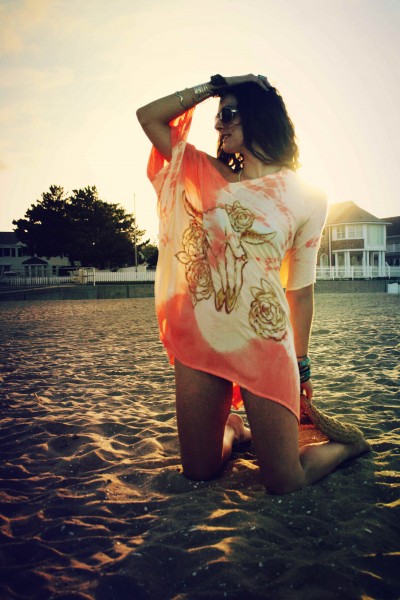 Artist Bio / Statement
A little about me:
I've been inspired to make things ever since my hands touched their first pair of scissors. I followed my heart and pursued a bachelor's degree in Fine Arts with a concentration in Painting and Drawing at James Madison University. It was there that I found my love for textile art. I became tired of the typical oil and canvas routine and I soon fell in love with fabric as my new canvas. I call my works of art: body canvases; as they are a way of wearing art.
Throughout my life as artist, I have come to live by two philosophies:
Anyone who sees the world in a different way is an artist. Once you have your dreams and visions, the rest comes naturally.
Your body is a canvas. And you are the artist. Whether it be clothing, accessories, tattoos, piercings, etc, you should always express yourself through what you wear.
I am a painter, photographer, textile artist, sculptor, and jewelry maker, but most of all I am a free spirit and I found I can combine all my passions into my shop on etsy: Echoing Waters. I am inspired by the Native American culture and by the beautiful atmospheres of our universe. I also continuously draw inspiration from other artists such as Cy Twombly and Gustav Klimt for their use of color, space, and movement, and Georgia O'Keefe and Erte for their content. Overall, my main inspiration comes from my love for nature and what is easily overlooked all around us.
I use many different types of clothing for my fabric paintings but I favor
caftans
from dharma trading co. as my main canvases for the body as they resemble the same shape as a canvas when lied out flat on the ground. For my medium, I use dharma's
fiber reactive dyes
to dye the caftans using different techniques such as cold tub dying, ombre dying, and shibori. Once the caftan is dyed, I use Pebeo
Setacolor fabric paints
for my paintings on top.
Each day my head is flooded with new ideas and I look forward to creating new body canvases!
Contact Info
Lauren McHale
Etsy Shop: Echoing Waters
mchalele@gmail.com