Featured Artist : Gretchen Larson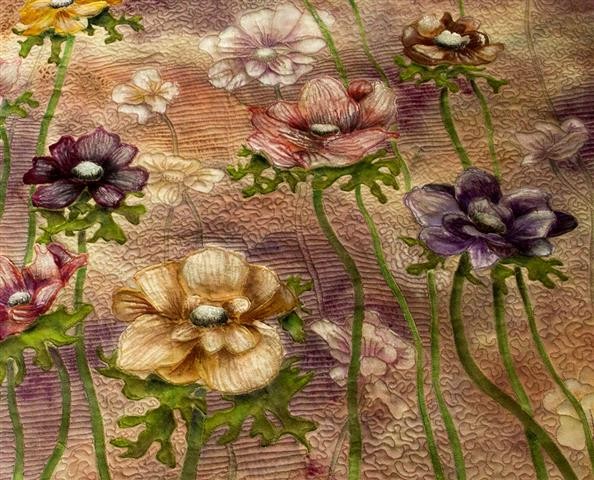 Artist Bio / Statement
Hi,
My name is Gretchen and I love making art quilts using mostly hand painted fabrics. I use setacolor transparent fabric paints to create many pieces of uniquely colored fabrics. Two reasons I love these paints are that I'm not limited to certain types of fabrics and that their transparency and heliographic properties allow me to acquire a loose, water-color like look.
Once I have a subject for a quilt in mind, I have a large stock of fabrics to choose from to make a quilted design. Many times I will use shiva paintsticks and watercolor pencils to accentuate parts of the artwork.
Recently I started making small silk screens, using silk screen emulsion sheets. I've been creating sheets of different types of intricate flower heads and leaves to add to my designs.... much easier than trying to cut them from fabric when the leaves or flowers have tiny parts.
Another wonderful discovery, after buying procion dyes, was ice dyeing. I've added some great pieces of fabric to my stash using that great technique. I must confess, though, I used snow instead of ice cubes.
Whether a certain piece of painted or dyed fabric inspires me or something I've noticed during a walk in the woods in my western Wisconsin home, creating these fabric designs has become a very important part of my life.
Contact Info