Featured Artist : Katherine Stein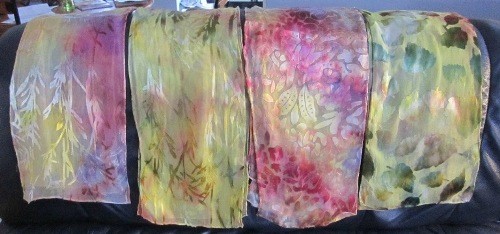 Artist Bio / Statement
My Name is Katherine Stein and I create in Raleigh, North Carolina. I am a natural "Fiber Loving Chick" and I Dye silk scarves for resale.
I learned Shibori techniques from a friend and was dying primarily with PFD Cotton fabric. After taking a batik class, the teacher had white silk scarves for sale. I bought a couple and, after using Shibori techniques I discovered a true match in heaven. The white Haboti silk scarves I get from Dharma come in a variety of sizes and shapes and they work wonderful with any technique I choose to use. (Shibori, Batik, Brush on, and Ice) I like to imitate what I see nature. Sun rises and sets are great color blend inspirations. The stricking color contrasts in insects and butterflies also generate ideas. Dying with Ice has been a huge help in getting an "out of world" color experience and gives my work a water color effect.
Procion Fiber Reactive Dye is my favorite color application to use. Not only is there a broad range of color and value to use, they can be thickened with Sodium Alginate to create paint like texture which can then used like as paint but dries without a paint texture. They also work well with all different natural fibers like cotton, wool and of course silk. Clean up is really easy as well.
Using Procion Fiber Reactive Dyes I am able to replicate some of these inspirations to create a wonderful kaleidoscope of color and textures.
Contact Info