Featured Artist : Prairie Rose Clayton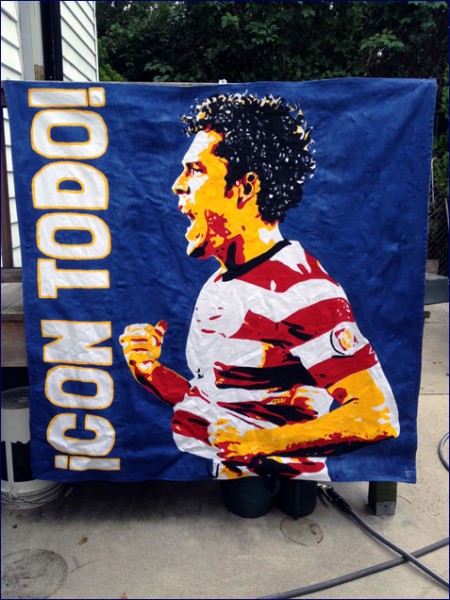 Artist Bio / Statement
My name is Prairie. I paint banners. 

I didn't set out to paint banners, just as I didn't set out to become a soccer fan. But a stretch of unemployment during the 2002 World Cup left me with little to do besides see what my Brazilian neighbors were yelling about, and I was hooked. Soon after, I began attending local and national team games, and got wrapped up in the fan culture, of which large, colorful banners supporting players and teams are an important part. A friend and I thought hey, that looks like fun, doesn't seem to be any trick to it, and started painting a few banners for some games in town. Just as when I first tuned in to a game on TV, I was quickly hooked.
I started painting more banners, moving from traditional sports messages of team allegiance to experiments with color, text, and pop culture themes applied to the context of soccer. Soon, fellow fans, players, and team officials started to take notice, requesting custom banners for their own use. I've done commissioned work for Major League Soccer, the United States Soccer Federation, the New England Revolution, and the Boston Breakers, and my originals can be seen in the homes of players ranging from Alexi Lalas to Kristine Lilly. My banners became my voice.
Starting with illustrations on computer, then traced onto unstretched canvas and mostly finished with fabric paint, much of my work involves bold, limited palette renderings of individual players, often paired with words describing who they are and what they do. In addition, my background as a historian and archivist led me to begin adapting World War I propaganda posters to soccer themes, connecting their expressions of nationalism and battle to the modern sport. Each banner is finished with straps to be hung from a railing at a game or a curtain rod in one's home.
My preferred paints are Jacquard's textile, Neopaque, and Lumiere lines, with craft acrylics added when I need skin tones and house paints when I need large quantities of specific team colors. I've tried many varieties of paints and Jacquard's the proven favorite. Preferred fabric is whatever huge heavy cotton I can get, either twill or duck, preferably white. The trickiest supplies to get are brushes. I like a stiff angled scrubber--Loew-Cornell usually--and those are extremely hard to find, nearly impossible if you want them bigger than about 3/4". Lately I've been using Princeton's Catalyst silicone blade brushes.
I didn't set out to paint banners, but it turns out some fabric paint and cotton duck speak louder for me than I ever thought.
Contact Info
Dharma Products Used
Please see the description for a list of products used.