Featured Artist : Samantha Williams-Chapelsky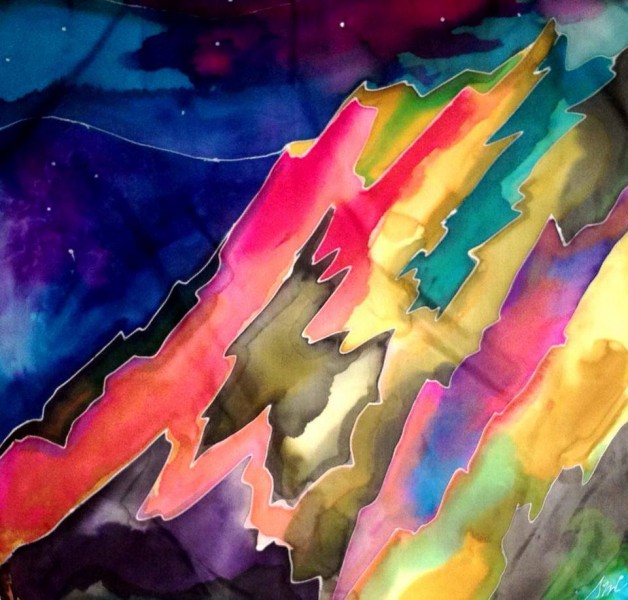 Artist Bio / Statement
Samantha Williams-Chapelsky, Local Edmonton Artist, working in acrylics, oils, sculpture, and mixed media sculpture and hand painted silk scarves
I have been working with Habotai Silk and Dupioni Silk for the past three years creating wearable art. The Rock and the Water Series was created on Habotai Silk, these scarves reflect the landscape of the Rocky Mountains.These pieces can be showcased on a wall, or worn as an accessory. This series is consistent with my painted body of works, titled the Rock and the Water, which is a series of oil landscapes loosely based on Jasper, Alberta. These paintings reference the era of the Romantics and the notion of the sublime, surreal, and awe as seen in the inspiring landscapes of the Rocky Mountains. I have incorporated heavy layers of paint, and the bright white of the canvas to delineate the slate patterns, the complex angles of the mountains façade and the rush of Athabasca falls. For these paintings on silk, I have used a wax resist method, and have allowed black areas of pure white silk to shimmer through layer upon layer of colorful silk dyes.
These landscapes hold a place in my heart, as they represent a juxtaposition of The Rock and Water that engulfs this miraculous, unique landscape that forms around Jasper, Alberta. I love the natural environment and the architecture of the world!
Contact Info
email samanthawilliams@live.ca
Dharma Products Used
Please see the description for a list of products used.