Featured Artist : Devyn L. Levy Madsen
The Levia Project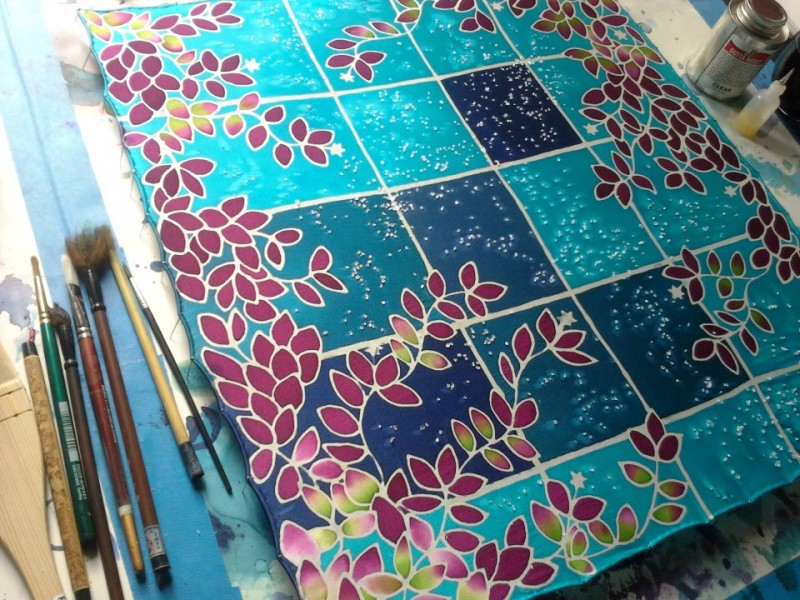 Artist Bio / Statement
My name is Devyn L. Levy Madsen and I am a Philadelphia native, San Francisco based artist. I have always felt connected to textiles as a visual expression of self and a tactile statement of personal character. I first learned the art of silk painting from my mother, whom I also inherited the Levy name from. It was through her that I also learned many of the beautiful traditions of Judaism. "The Levia Project" is a name I gave to my business as a tribute to my mother, the keeper of Jewish tradition. The roots of the name "Levi" and the word "levi'a" mean "lioness" in Hebrew- a very fitting tribute to the women in my family, all with our big manes of golden hair! The Levia Project is a visual story about culture, tradition, color and nature...the roots of my self and the elements of life that inspire me everyday.
As a textile designer herself, my mom used products from Dharma Trading Co. for years. When I first moved to San Francisco I was thrilled to discover that the main store was located just above me in San Rafael! It was between the lines of my family fabric and my Jewish roots that organically led me into my business of designing hand painted silk tallitot for girl's Bat Mitzvahs and chuppot for Jewish weddings among many other silk painting projects. My pieces start with Crepe Back Silk Satin (Charmeuse fabrics) and/or Crepe de Chine silk fabrics. I then use Jacquard Solvent Based Gutta, Silk Color Dyes, Silk Salt and lots of love.
Contact Info
Devyn L. Levy Madsen
The Levia Project
devyn.madsen@gmail.com
Dharma Products Used
Please see the description for a list of products used.