Featured Artist : Eric Rasmussen
funyhed BATIK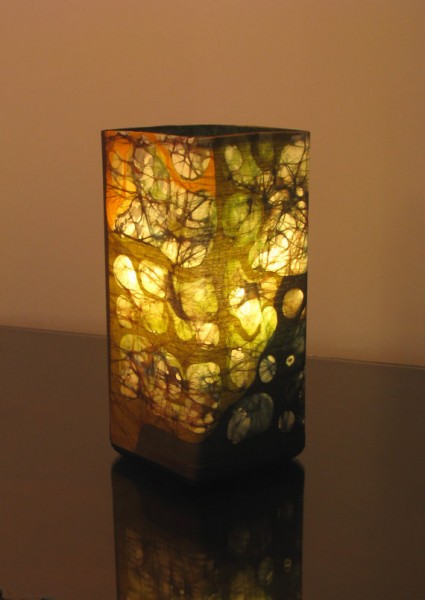 Artist Bio / Statement
I am the owner and operator of funyhed BATIK. I create batik furniture accessories including batik lamps, batik pillows, batik tapestries, and custom wall pieces. Making functional art pieces is my way of embracing the functional beauty of design in objects that we use in our everyday lives.
My fascination with the batik process stems from the balance of control vs. chaos. The unexpected results and accidents provide spontaneity and create an ongoing sense of experimentation.
Art, much like life, is often a series of accidents and coincidences. Although I have some control over my intended results, there are always variances that become the true soul and beauty of each piece. For every intended shape and color, something unexpected and beautiful can and will occur.
My work in batik is a combination of traditional techniques, modern materials, and nontraditional imagery. This contrast of old mixed with new creates a result that encompasses my love for the environment, other cultures, and the importance I place on art and its influence on our lives.
I get most of my batiking supplies from Dharma Trading. I prefer the fiber reactive procion dyes and parrafin wax for batik. Some addition Dharma products I have used include; synthrapol, soda ash, urea, sodium alginate, cotton broadcloth, cotton pillowcases.
Eric Rasmussen received a B.A. from The School of the Museum of Fine Arts in Boston, MA. (1999) with a focus in drawing and printmaking. He now works in his home studio in central Massachusetts.
Contact Info
Please visit my website at:
Eric Rasmussen owner of funyhed BATIK
Dharma Products Used
Please see the description for a list of products used.