Featured Artist : Olivia S. Mata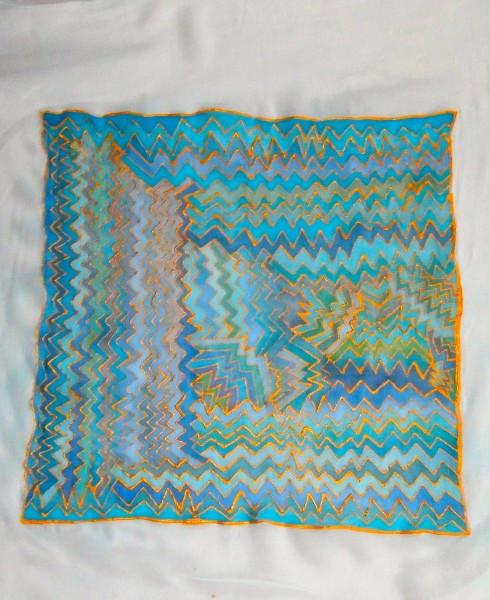 Artist Bio / Statement
I started silk painting in High School, as part of an advanced Studio class- and also a good way to get out of Drawing & Painting. I'm miserable at representational art, and have always been fond, jealous, in awe of the work of abstract expressionists and color field artists.
This past year I resumed painting after a long hiatus and dabbling in sculpture and went straight to what I felt comfortable with, and love doing- silk painting! Unfortunately I've only had 2 years of instruction in silk, so I use techniques that I used in high school and everything new I try has been trial and error! It's fun, but terrifying.
I find myself drawn to and inspired by the linear structure of Scared Geometry, and the "organized chaos" that lies within. But I am a much bigger fan of stern straight lines and squares than of circles and elegant curves!
My goal in my work, which I am blessed to have being presented for the first time in a group show for local artists, is to expand the appreciation of fine, abstract art and to present the transition between fine and commercial art that silk painting is so seamlessly capable of doing.
Right now I am using
Jacquard Green Label dyes
, which I don't dilute because I am afraid to lose color when I set them with your chemical concentrate. One day I'll get that stove top steamer!
I am obsessed with the
Jacquard Metallic resist
in gold. I like to consider it a trademark in what I paint. Still learning how to make it durable on silk that is chemical set.
I painted on
Habotai
- 8mm in High School, and have started using 5mm. The 8mm was awesomely sturdy. I was blown away by the sheen once dyes have been applied. I also have been painting on
Silk Chiffon
- 8mm, to experiment, and who doesn't love chiffon? I love it, and my paintings love it.
I make my own frames out of Shimms and canvas bars and use thumbtacks and the 3-prong tacks that you sell. The plastic ones you sell with the suspension hooks are a little too much for me and don't allow me to make borders.... as far as I know so far. They scare me!
Contact Info
Dharma Products Used
Please see the description for a list of products used.