Featured Artist : Corlyn Cierman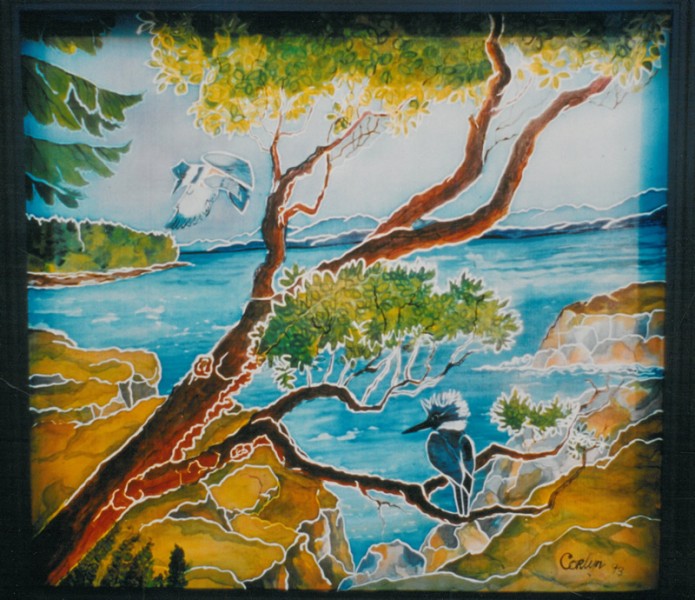 Artist Bio / Statement
My dyeing career began in my last year of Art school in Vancouver b.C when *I met some interesting and unique Indonesian people who had a real connection to their culture. They shared willingly shared their ways of cooking as well as the Batiks that adorned their homes. Also the dances I learned so it was a great way to be introduced. My boyfriend and later married his
Father worked for C.I.L and there was a sourse for dyes, but only use for pulp and paper. I received these samples 6 colours in square glass bottles. next the wax was found and combined with the paraffin in a double boiler . Next the dyeing was done in my Mother's laundry tubs, a bit of a mess!
I continues onward,dyeing fabric lengths and wanted to go to Indonesia,now living in quebec city. the offer was a years study any where and was to be in Jogjakarta with Harionto family who were very artistic. There was a coup against the Chinese so all plans came to a full stop. But back In Vancouver everyone was dyeing and waxing. Many drycleaners forbid because of the mess of the excess dye caused. But pails were the way cleaning solutions as varsol. I dyed a lot and waxed double boiler,difficult. It was a matter of being a good drawer,a;lways the key, this I can di well.
I began scarves showing at the art Gallery Vancouver and selling .
Also the Hudson's Bay Co. On the sunshine coast Gibsons, B.C. I set up a real studio for all this mess. There I dyed clothing and paintings.
Later in the 80's I moved to Vancouver Island and met Sooke Harbour Sinclair Philip and was offered the opportunity to paint on silk,using Peintex of Sennelier a marvelous dye, pictures are in my display. There were 6 art works on silk all still there framed behind glass in windows.
I moved to the Okanagan,in the early 90's and was still invo;lved with Sooke Harbour House, the 5thArt work. the last was theKingFisher room, a window that had a bathtub that need to be camouflaged.
My scarves continued to be created of many sizes some for commissions for the movie business and private sales on a continuous basis more for the movie business all individual designs.
I am now studying ancient silk designs and on another related project of paintings of the Buddha as a man, the history of the ear,the fabrics and his life. this was related to me through a dream of the Bobobudur. I have a studio in Greenwood B.C. I call the sixth Happiness after the Japanese who lived there. Exploring dyeing and have one of you heaters.
I use Fiber Reactive Procion MX dye, luminiere paints and pebeo gutta.
Contact Info
Corlyn Cierman
email: cierman@hotmail.com
Dharma Products Used
Please see the description for a list of products used.