Featured Artist : Kim Kirchstein
Leopold Designs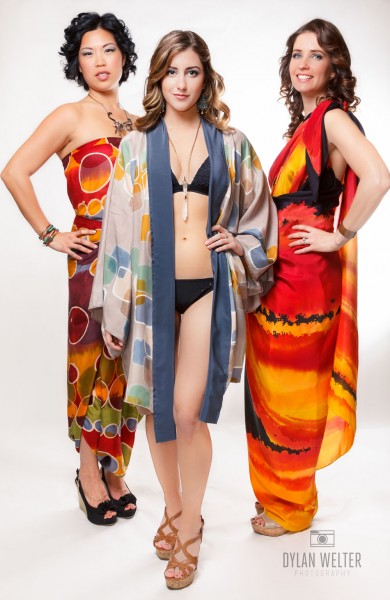 Artist Bio / Statement
I am Kim Kirchstein of Leopold Designs and work out of my home studio in Raleigh, North Carolina. I create unique hand-dyed Batik silk fabrics and scarves.
Years after graduating from ECU with a BFA in Surface Design for Fabric, I found inspiration to get back into creating silk, acid dyed, Shibori scarves. A local photographer, Elizabeth Galecke, was putting together an art fair to raise money for the local MS Society. My father had MS and I knew this was an ideal way to honor him. That was wildly successful, and I decided to keep making the scarves.
Today, most of what I make are Batik silk scarves, using Procion MX dyes and soy wax. I sell those at a couple local boutiques and craft shows. However, I've taken the plunge into doing runway fashion shows! I have been chosen three years to be a featured designer for a local group focusing on bringing awareness to eco-fashion & textiles group called Redress Raleigh. I've also been part of other local runway shows that focused on supporting non-profit organizations.
The clothing I make has involved making larger Batik silk fabrics. I have had to learn how to make patterns and sew as I go along. My strongest pieces to make are Kimono-inspired jackets, sarongs, bow ties, and most recently a series of shift-dresses.
When I was a little kid, my Mom used to note how I would find the smallest flower in among the moss, or the tiniest of all the fallen leaves in autumn. My main inspiration for my fabrics comes from an appreciation of details in nature I think get overlooked. I really do adore discovering the tiniest details in nature, including observations such as microphotographs of sugarcane, minerals, and so much more. The patterns in these things are remarkable!
Then, on the other end of the spectrum, I find aerial photography of the landscape amazing and painterly. When taking a plane trip to California, I was noticing the shapes and color in the mountainous terrain. Even the man-made crop irrigation circles are gorgeous! The colors and pattern of them is always fascinating to me. The theme of my most recent line I showed at Redress Raleigh was landscapes, coastlines and tributaries, as seen from high above.
I've just started to teach an Intro to Batik class at a beading and crafting shop called Ornamentea. It has been so much fun to do, and I have gotten lovely complements from the students. They say they see clearly how much I love dye work, and that it was great to be learning from me.
Contact Info
Dharma Products Used
Please see the description for a list of products used.