Featured Artist : Beth Darby Haizlip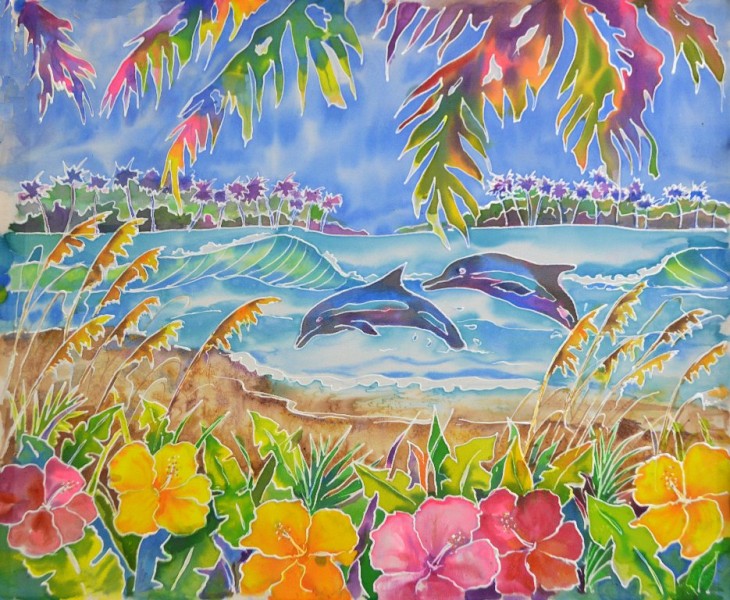 Artist Bio / Statement
I live in Jacksonville, Florida and have been an artist for over 30 years. I paint in all kinds of mediums, but love watercolor. I took a silk painting class and immediately liked the way the paint flows on the silk like it has a mind of its own. I enjoy the challenge of creating complicated pieces knowing I have to get it right the first time. I carefully plan out my design before I start the painting. My style is bright, bold and intense like a ray of sunshine! I use almost every color that Jacquard makes! I suggest you make a color swatch on silk with your paints and label each one. This is very helpful. I spray my paintings with a matt varnish 3 times and frame it with no glass.
Dharma Products Used:
Crepe De Chine 12mm 45" silk
Habotai 8mm silk stretched and glued on coated metal wire squares 8 X 8 #SHS10. This is wonderful - you don't have to stretch the silk.
Pebeo Water-based Guttas in tubes: gold, black
Dye-na-flow paints by Jaquard
Steel push pins to stretch silk
Vanishing fabric marker for drawing on the design
Contact Info
Dharma Products Used
Please see the description for a list of products used.