Featured Artist : Kathy Kucia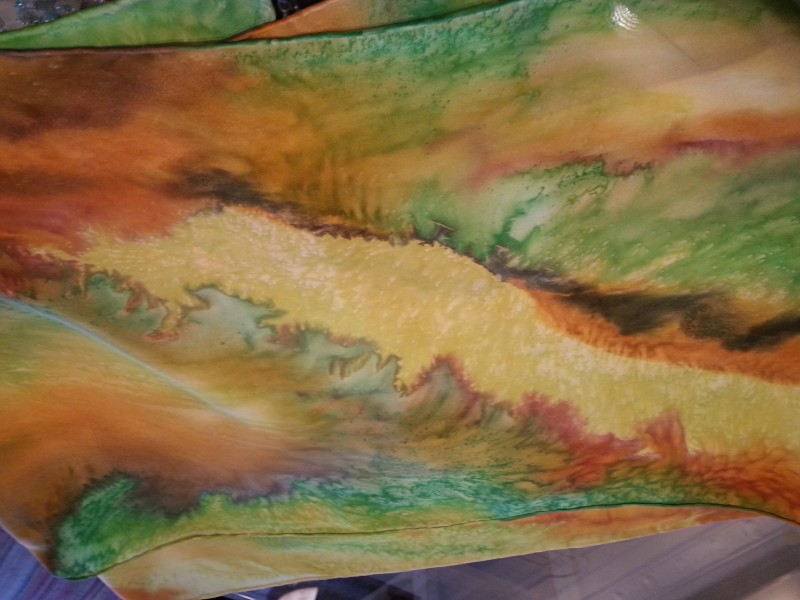 Artist Bio / Statement
I am an artist and art educator living in the Chicagoland area. I work in various mediums including ceramics, drawing, painting and in 2009 I was introduced to silk painting. I immediately fell in love with it! Making art that is both beautiful and functional has always been a strong interest of mine. Painting on silk falls right into this realm. The Jacquard dyes are flexible and offer an unlimited range from pastels to bright hues. I draw inspiration from a variety of sources including nature, the city, cultural influences and spiritual beliefs. My designs include both abstract and representational explorations of the endless combinations of colors, shapes and lines. Working with silk painting is one of the most enjoyable art forms I have ever done – I love everything about it! The wearable works that I create are made from Dharma Habotai, crepe de chien and chiffon silk scarves, Pebeo guttas, Jacquard silk dyes, salts and Jacquard dyes. I market my work through art shows, direct sales and through American Artworks Gallery in Forest Park, Illinois.
Contact Info
Dharma Products Used
Please see the description for a list of products used.