Featured Artist : Kirsten T.O. Sheffield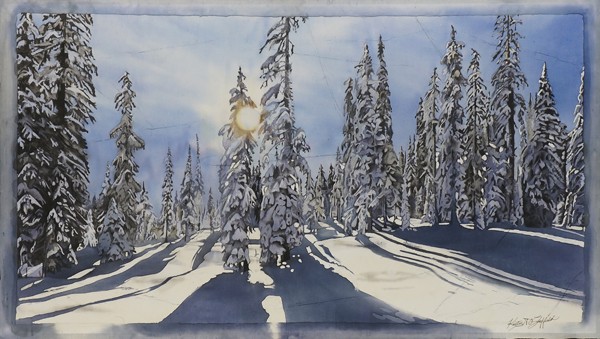 Artist Bio / Statement
KIRSTEN T.O. SHEFFIELD is a Vancouver-born artist who manipulates wax and dye, merging realism and the fluid nature of water in painted batik. The curious medium intrigues and draws patrons to her varied subject matter which includes Westcoast landscapes, internationally inspired cultural and architectural themes, as well as local botanical images. Her unique, resist-based technique produces organic paintings particularly suited to the interplay of light and shadow, smooth gradations of colour and reflections on water. Her richly-hued paintings are heavily influenced by extensive travel and shaped by her background as an oil painter and photographer.
After receiving a BA in Art History from the University of Victoria, Kirsten spent the next two decades in a circuitous commercial art-career ranging from technical drawing for scientific and medical journals to illustrating for Harper Collins, the Canadian Military History Journal and Paradigm Motion Pictures. In 2010, Kirsten establishment Walls That Talk murals, becoming a full-time professional artist. Her art history was merging with her creative side as the murals were permeated with trompe l'oeil reminiscent of the Renaissance. The realization that she was painting other people's whims however led her to what she now recognizes as her niche, painted Batik. Since 2012, Kirsten has focused solely on painted batik - a technique introduced to her by Ontario batik artist and friend, Linda Risacher Copp.
Kirsten uses a non-conventional batik method. Painting on cotton allows for somewhat more control compared to traditional methods and those used painting silk. The process where wax is heated and applied as a resist to fabric in stages, intermittent with dyes, remains the same. The truly artistic aspect of her work involves control of the dye when it touches the fabric, spreading in varying degrees dependent on how wet she allows the fabric to become. The wax, as usual, creates a boundary where the dye cannot enter. When a piece is finished, the wax is removed and the image emerges.
Kirsten is an Active member of the Federation of Canadian Artists and is represented by the Abbotsford Art Gallery in Abbotsford, British Columbia, Canada. She has shown with Min Ma, Donna Zhang and Pieter Molenaar and was juried into the international 2015 POTE exhibition held at the Federation Gallery on Granville Island in Vancouver, Canada. Her most enthusiastic patronage stems from the highly acclaimed and juried Sidney Fine Arts Show held each year in Sidney, BC. with one piece receiving the Major Award: Colin Graham Award for Innovation, as well as the People's Choice Award for 2015. In July 2016, Sidney's Tulista Park Gallery, in Sidney, BC, housed a very successful exhibition of her international inspired work and earlier this year she was invitation to join the international ArtExpo 2016 in Milan. Kirsten currently lives in the Fraser Valley of British Columbia and her work can be found across Canada and New Zealand.
"I pride myself in the realism I can achieve and my ability to convey what other people see in their mind's eye. But, after years of expressing other people's ideas, the need to create something completely of my own has finally culminated in a merging of photography and representational painting, inspired by international travel and Westcoast landscape. Influenced greatly by friend and Ontario batik artist, Linda Copp, I plunged into the realm of batik ... and found my niche. Batik has become an endless creative challenge for me and I love to test myself to see how far I can go with it."

Dharma products that I use-
Due-Na-Flow Fabric Paint, Batik, beeswax & Parrafin Wax
Easy Fix Fabric Stretcher Frames
Melting Pot
Mercerized Cotton Print Cloth 45" (many yards)
Kona Cotton PFD 45"
Sumi Brushes
Contact Info
Dharma Products Used
Please see the description for a list of products used.