Featured Artist : Craig Jones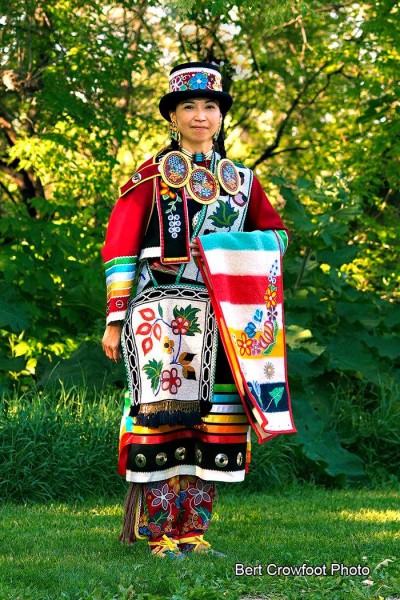 Artist Bio / Statement
My name is Craig Jones and I am a traditional textile, hide and bead artist and make powwow clothing, beadwork and other native items for other powwow dancers. I use Dharma Acid Dyes and supplies to dye feathers and wool. The wool that I make is called "saved list salvage cloth" that was a heavy blanket weight wool originally from Stroud England and was an early trade item sent to the Americas to be traded with Native people for furs. The white edge of the wool was a byproduct of the dying process, when the white wool was clamped in a stretching devise and the wool under the clamp was not dyed. For European clothes the undyed salvage was cut off and discarded. The Native people of the Americas liked the contrasting edge and it became favored.
The wool I make is used in both traditional and contemporary ways, some of what I make are the original trade colors of red, navy, black, green and yellow, however I have started dying contemporary colors that are being used by the more fashionable dancers in their contemporary powwow clothing.
I have been a writer for American Indian Past and Present, Whispering Wind Magazine for more than 10 years and I have a reoccurring column titled Powwow Fashions in which I talk about the trends of modern Native Powwow clothing. I love creating traditional items and pushing the boundaries of traditional and contemporary. Most of what I sell is custom order and I sell it through my network and following on social media and word of mouth.
Contact Info
Craig Jones
craig@equip-expand.com
Dharma Products Used
Please see the description for a list of products used.