Featured Artist : Susan Fecho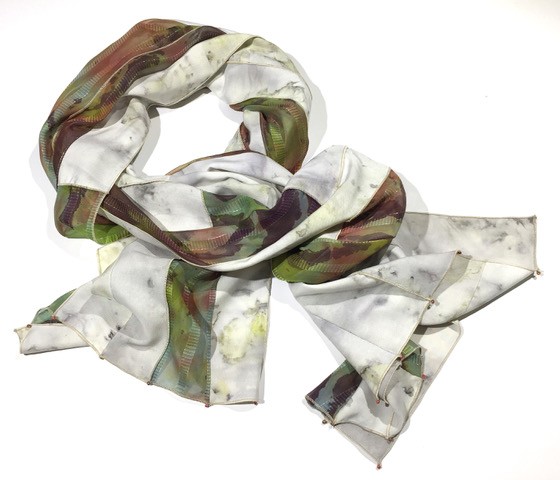 Artist Bio / Statement
As a resident of historic Tarboro, NC, I am inspired by the Victorian gardens in walking distance from my studio. I call myself a surface designer for I trained as a printmaker and textile artist - and I have been teaching for over thirty years. I am intrigued by the richness and variety inherent in varied techniques. My artistic techniques range through fabric, watercolor, mono-printing, collage, book arts, and encaustic to construct an environment of nostalgia. One of my favorite classes to teach is Crafts and Dharma Trading Co. is our "go-to" company for fabrics, dyes, markers, pre-made clothes.
Recently I purchased Dharma Trading Co. bamboo tapestry hangers [seen in these included images]. Love them for displaying my latest the silk and linen pieces. These pieces were produced on Dharma's silk/wool blend scarves, Crepe de chine and chiffon yardage - dyed with Dharma's Fiber Reactive Procion Dyes, drawn on with the FabricMate Permanent Superfine Fabric markers, and nuno-felted with Dharma's Merino Roving.
Contact Info
Susan Fecho
Fecho Designs
susanfecho@gmail.com
Dharma Products Used
Please see the description for a list of products used.