Featured Artist : Patti Barker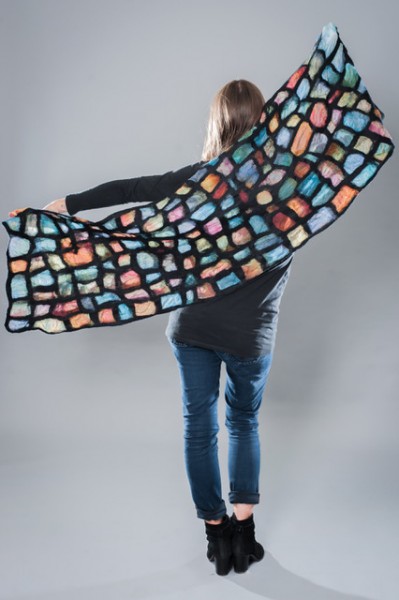 Artist Bio / Statement
My name is Patti Barker and I'm a full-time fiber artist living on an island in the Pacific Northwest with my husband, our dog and an African Gray parrot. I've been creating wearable art using merino wool and various silks for over seven years. Some days I can hardly wait to get into my studio to work on the latest inspiration. I'm still working off sketch book ideas that I developed in college (I'm a recent graduate of WWU with a BA in Studio Art). Some of these ideas are based upon simulated skins. I seem to go through phases, like the ebb and flow of the tide. One week I'm focused on making a coat, the next might be a snakeskin poncho, or right now I'm developing a mosaic Nuno felt vest design for layering in our crazy weather. I buy a lot of sheer silks from Dharma, including silk gauze, chiffon and Habotai silk. I also use both Dharma brand acid dyes, and Jacquard dyes. What I enjoy about dyeing my own merino wool and silks is that I get color combinations that work well together for my designs.
Contact Info
Dharma Products Used
Please see the description for a list of products used.