Featured Artist : Eileen Gidman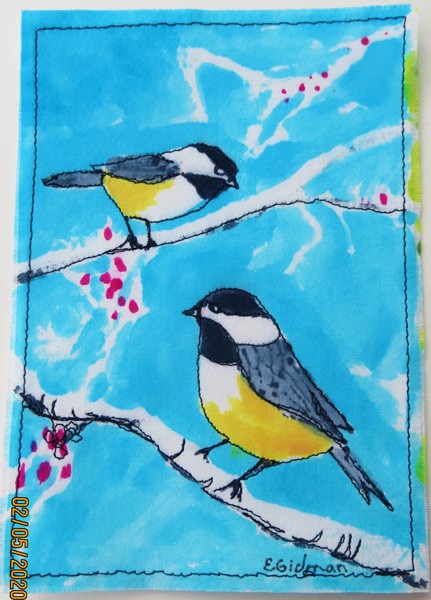 Artist Bio / Statement
I create and sell fabrics that I paint with dyes. My focus has been to create textile cards for sale and larger painted images for quilts and wall hangings. I live in southeastern British Columbia and my art is reflective of the natural world that surrounds me.
Dharma's Mercerized Cotton is my preference for painting detail which I do with Dharma Fibre Reactive Procion Dyes that I thicken with Sodium Alginate. I have painted on a wide variety of Dharma's fabrics and they have all dyed very well. The Mercerized Cotton is of such quality that I can use it for both my original cards that are often framed and for painted images that can be sewn and washed.
For a flowy watercolour effect, I like painting on Cotton Lawn with the Dharma Fibre Reactive Procion Dyes that I thin with Urea water for an array of tints. For shades of a colour, I add the Procion dye 'Better Black'. My favourite dye colours are Turquoise, Fuchsia,
Lemon Yellow, Dark Brown and Better Black. I am used to working in watercolour and the Primary Fibre Reactive Dye Colours allow me to mix any colour right on my palette.
Dharma's Rayon Fabric dyes with such vibrancy that I find myself using it when painting my wildflower series. More recently I have been experimenting with painting Rayon Velvet. It dyes to shimmery vibrant colours that are perfect for adding embellishments to my textile cards.
Other Dharma products I rely on are the Gutta Applicator Bottles with Metal Tips which I fill with thickened dye for drawing details including writing a signature. It is a wonderful feeling to be able to add your permanent signature to a dye painted fabric piece!
Contact Info