Featured Artist : Janet Day
Around the World in 80 Dyes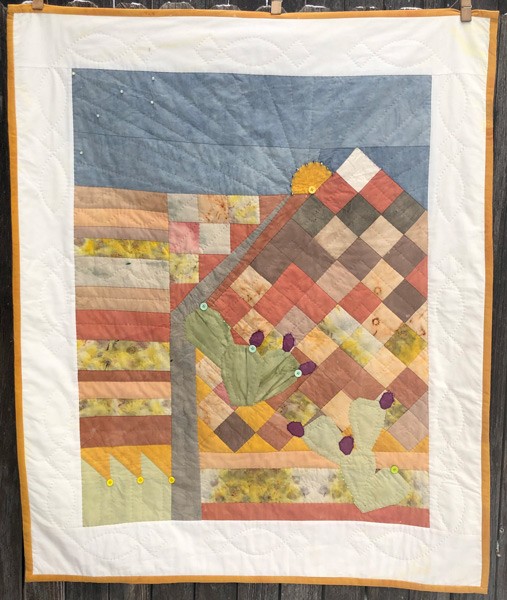 Artist Bio / Statement
I am a life-long quilter, textile artist and career journalist, daughter of painters, curious kid from the hippie era fascinated by color and its creation, raised in Maryland only to become a hardened New Yorker then softened by following my soul to the Rocky Mountain West.
When I was 11, a horse-riding mishap fractured my spine and left me a bored kid in a back brace for months. My mother sat me in front of her sewing machine to give me something to do. Instead of sewing doll clothes, I got a screwdriver to take the machine apart and see how it worked. But with the purchase of a new sewing machine, my love of textiles and fabric arts was born.
From being an active kid with clothes covered in stains of green grass, purple berries or red clay soil, I grew into an adult intentionally smashing plants and dirt into fabrics to see what would happen. I moved on to learning all I could about natural dyes and taking on all kinds of mad scientist-like experiments to color cotton fabrics, clothing and accessories.
I've used the piles of beautiful naturally colored fabrics I've created to make one-of-a-kind quilts.
Among the Dharma Trading products I've used over the years are the cochineal, indigo, sandalwood, madder root and osage orange dyes, cotton bandanas, cotton scarves and some of the mordants/additives.
With an early retirement, I've combined the quilting and colors to launch a small natural dyeing business — Around the World in 80 Dyes — in the hopes of teaching a wider audience about nature's color sources and sustainable ways to find and use them in an easy and fun fashion.
Contact Info