Featured Artist : April Castoldi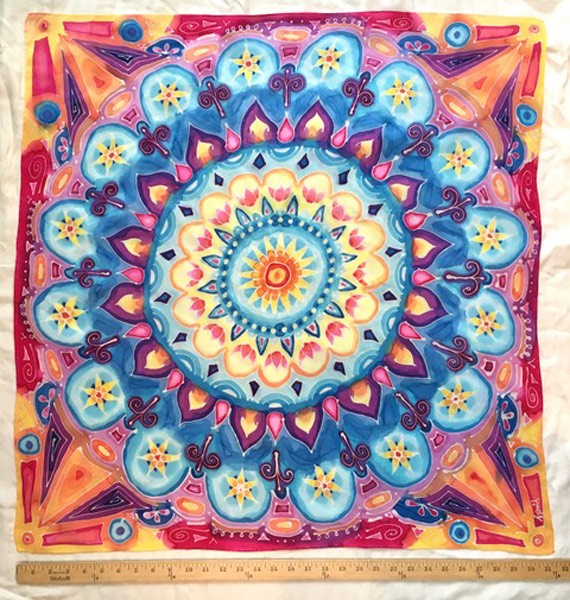 Artist Bio / Statement
My name is April Castoldi, and I'm an artist with curiosity and passion for different media, including textiles (quilting, knitting), print-making, pen and ink drawing, and painting on silk. I have over ten years of experience creating mandalas. They have been featured on t-shirts, tote bags, phone cases, in a book, in "Yoga Journal," and I sell umbrellas with my designs on them.
At the beginning of 2021, I decided to invest in the equipment and supplies to do silk painting, and I am crazy about it. I mostly make scarves, but some people use them as wall-hangings or altar cloths. I sell some, I give some as gifts, and I take quality photos of the best ones for print-on-demand products.
I am drawn to patterns (no pun intended!), including ones from nature, like the arrangement of petals on a flower, photos of microscopic diatoms, cross sections of carrots, etc., as well as those created by human artists for various purposes, such as wallpaper, textiles, temple art, and Crown Jewels! I love the symmetry of mandalas, but I also enjoy patterns with a less formal structure, and I can spend hours browsing through books of patterns. I also love to create custom art to really WOW people. It's become a kind of spiritual process/practice; I interview the person, I look at the photos they've shared on their social media posts (if available), and I use my intuition to make art that I think will inspire and touch them based on images or ideas that they cherish. I like to find ways to turn a list of all kinds of ideas into a unified visual design.

The Dharma Trading products I use include:
Kieralon detergent - to prewash the silk
Jacquard Red Label silk dyes - so far, I only use magenta, cyan, yellow, black, and sapphire
Disappearing ink markers - to sketch my designs
Dupont diluant - when I need to paint a large area and want it to stay uniform
Habotai silk 10 mm, mostly. I cut my own scarves and hand sew the hems with silk thread so it will be dyed to match the fabric.
Cyan-Yellow-Magenta Primary Color Wheel - to help me mix colors
Batik wax - but I add beeswax to decrease the cracking
Jacquard Silk Salt
Better Tjanting tools
I melt my wax in a small electric wax melter.
Contact Info