Featured Artist : Debra Jason
Creative Whispers of the Heart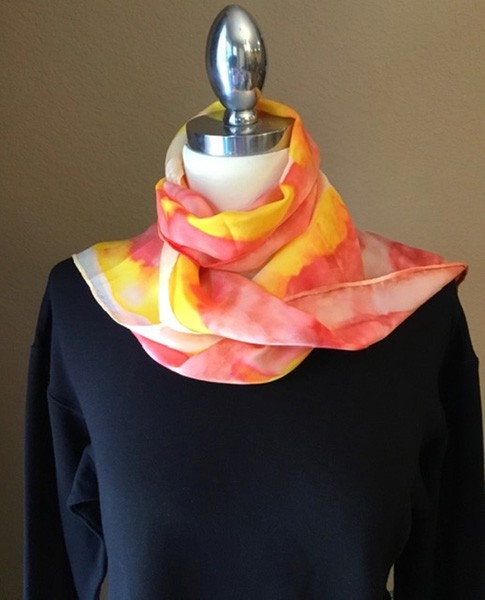 Artist Bio / Statement
I am Debra Jason with Creative Whispers of the Heart - alcohol ink creations and more. Attached are photos of silk scarves from Dharma Trading that I painted with alcohol inks. Some are 8 inches by 54 inches and some are 8 inches by 72 inches (8mm Habotai silk).
In approximately 2018, I heard about alcohol inks and decided I wanted to let my inner artist out. So I bought a set of inks and sat down to paint. However, I wasn't pleased with my creations. Therefore, I put the inks aside thinking, "I'll try it again another day."
Well, about two years went by and the inks sat in a bag. Until the pandemic hit. With stay-at-home orders in place, I decided to finally pull out the inks again. This time I decided I would play and experiment with technique and color. And, not judge the results.
I started to post some of the images online asking friends to suggest names for the pieces. I received a ton of positive, uplifting feedback AND someone purchased one of my pieces. That's when I took it a step further and looked into turning the paintings into earrings (sold out), notecards, ornaments, pendants, and silk scarves. The silk scarves have been a big hit (especially as gifts)!
Contact Info