Featured Artist : Robin Dudley Howes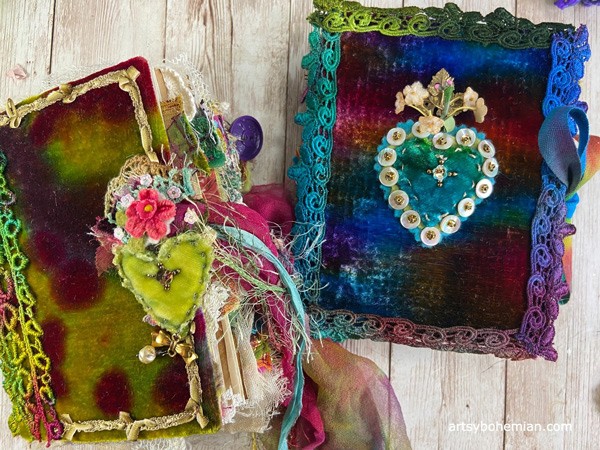 Artist Bio / Statement
Hello, my name is Robin Dudley Howes. I teach creativity and make one of a kind Bohemian style jewelry, journals and altered art.
I've been happily married since 1987 to a wonderful loving, creative, shoe designing husband and have 1 miracle child who is pursuing music. We live in a 1918 Craftsman home on the coast of California and work from home. I love cold brew and all things spooky and the ring tone on my cell phone is the theme to Harry Potter!
Creating art and teaching creativity is a way of life for me and has been my main source of joy and income. It all started when I was a child and has been a driving force and passion to this day. So I guess you could say my education has been my curiosity to learn by living a creative life and the adventures I have traveled to get there.
I used Dharma Fiber Reactive Dyes for the projects you see here.
Over the years I've taught hundreds of classes to thousands of students at large National art retreats to cozy home gatherings. My creations have been published in dozens of well known magazines with one cover feature.
After repeated requests to teach my classes online, I built the Artsy Bohemian Online School. At the time of this writing, I have over 10 online courses dedicated to unconventional Bohemian artisan projects and one membership program for Halloween enthusiasts.
Online classes are a great way to reach those who cannot travel to art retreats or attend in person classes and I am so thrilled to have a platform that has opened that door.
I eat, breathe and live a creative life everyday and I love to share my knowledge with others.
Contact Info