Featured Artist : Santa Rosa City Schools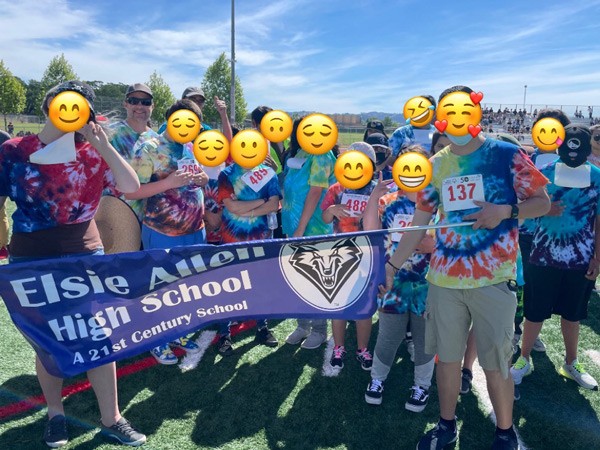 Artist Bio / Statement
My name is Emily Jacobsen and I work for Santa Rosa City Schools in Santa Rosa, Ca. I have been a tie dye enthusiast for the past 15 years. When I was younger I used to buy the Jacquard tie dye kits off Amazon in 2011. When my hobby became more intense, I began buying Dharma dye in 2020 and have placed over 800$ in orders since then. I am currently sharing my love for tie dye with my special education students.
I'm a school psychologist working with students with moderate to severe disabilities. My students have a wide range of disabilities, including autism, intellectual disability and chromosomal abnormalities. Some of my students are non-ambulatory and use wheelchairs to get around. Some of my students are medically fragile and require diabetes maintenance or feeding assistance. Some of my students are nonverbal and require assistive technology to communicate. We try hard at Santa Rosa City Schools to have our students feel loved, have fun, and grow to their potential. Every year we have an event especially for them called, Special Olympics, which aims to help our students feel celebrated.
I decided to make tie dye shirts with all of our 14 classes (over 150 students), to wear to Special Olympics. I wanted them to feel special and proud of their creations. To have a sense of community with the rest of their classmates, and to feel that they are capable of making things. I have some photos to share at the end of this email, that shows the amazing work our students did. Dying the shirts provided my students with fine motor skill practice, as they placed the rubber bands. Motor coordination practice as they folded, scrunched or twisted their shirts. It required sustained attention from them to learn the rules and watch the demonstrations. It required patience, as the students waited for their turn to dye and as they waited for their shirts to set and be washed. My students completed all parts of the process of making the shirts, and were so careful with activity, that no student got dye on their clothes! Some dye did get on arms, but the kids were very flexible with this!
I recently found out that Dharma dye in Petaluma works with some of our students who attend Cypress Nonpublic School, and I wanted to thank Dharma for being an outstanding company. Thank you for supporting students with disabilities and caring about our community. I thought you all might enjoy the smiles and sheer joy my students had while wearing their shirts, and also to show off the amazing shirts. Some of my students are wearing their shirts multiple times a week, and have so much pride in what they created. The shirts are so bright and vibrant and that's all because of how great Dharma Dye is.
Contact Info